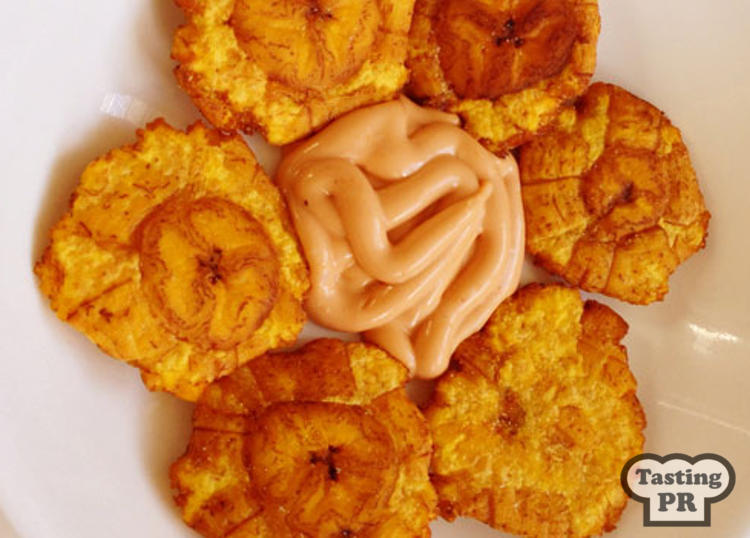 Tostones are a staple side dish / snack here in Puerto Rico that you will find on restaurant menus throughout the island (even Chinese restaurants).
When cooked right these twice fried plantain slices are delicious and make for a great addition to any Puerto Rican meal. Unfortunately in the past some restaurant tostones have been a bit of a letdown; too hard, too thin or even overcooked. So now, whenever I crave some tostones, I rustle up a quick batch at home.
You will need:
Several green (unripe) plantains
Oil (vegetable or corn) for frying
Sharp knife
Can of beans or similar – this is what I use to flatten the plantains into the tostone shape. You can if you prefer purchase a Tostonera; which is wooden press specifically designed to make tostones.
Tostoneras come in two versions: one will make the traditional flat tostones and another version will make small cup like tostones shells that are used with fillings,
Method:
Heat the oil to around 325C
While oil is heating, peel the plantains. I find the best way to do this is to first cut off the ends of the plantain and then slit the peel lengthways, making sure to only go as deep as the thickness of the plantain skin
Next remove the peel.




Once peeled, cut the plantains into 3/4 – 1 inch chunks.
If the oil still has not reached the desired temperature, place the plantain pieces into cold water to avoid discoloration.
Once the oil is ready, add the plantain pieces in small batches (so that the oil temperature does not drop significantly) and fry for around 3 minutes




Remove the plantain pieces from the oil, drain on kitchen paper and allow to cool.
Once all of your plantain pieces have had their first fry, increase the oil temperature to about 350C.




Take the cooled plantain pieces (dry them if you had previously placed them in water) and place between two pieces of wax paper and press down firmly with your can of beans or similar, to flatten into the traditional tostone shape. Do not press to hard or your tostones will be too thin.
If you are using a tostonera, place the pieces of plantain into the tostonera and press out your tostones
Place the tostones back into the oil for the second fry (again in small batches). Cook for around 2-3 minutes until they are a crisp golden brown.
Remove from the oil, drain on kitchen paper and season with salt.
Note: No thermometer? You can check temperature with a small piece of plantain. If the oil does not bubble when tplantain is added the temperature is too low, if it smokes, temperature is too high
Your tostones should be crisp on the outside and soft on the inside.
Serve with mayoketchup or just eat them plain.
Being from England I have even tried them sprinkled with malt vinegar, similar to how I eat chips (fries) back home.
You can even prepare tostones cups, instead of the typical slices and fill them various fillings.
Your turn to have a go….