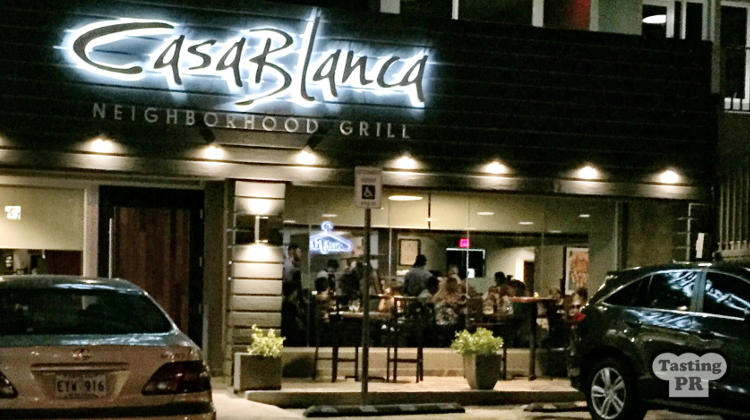 CasaBlanca Neighborhood Grill is the latest venture from popular Puerto Rican Chef Ventura Vivoni. Located in the Altamira neighborhood of Guaynabo, Chef Vivoni and his team have transformed the old Casablanca Supermarket into a simple and elegant neighborhood restaurant where families can come and enjoy a delicious farm to table experience.
Known island wide for his Vida Ventura dining experience at Hacienda Luz de Luna in Adjuntas, Chef Vivoni stays true to his roots at CasaBlanca Neighborhood Grill with a creative menu that focuses on fresh local produce, exquisite presentations and tastes to match.
The restaurant has a large main dining area, a curtain off area for private dining and a bar area with a couple of televisions and high tables. The bar area also houses the impressive wine selection that takes up the whole of the back wall.
For children there is a small area just off the main dining room that includes seating and a couple of Playstations.
CasaBlanca Neighborhood Grill offers a regular menu and a separate chalk board menu that includes dishes based on the produce available to Chef Vivoni on that day. There is no specific children's menu, but several of the dishes are marked as kid friendly and they also had pizzas available.
Appetizers such as: Queso Bola Frito with a Mermelada de Tomate, Chicharrón de Pulpo with Malanga, Dumplings with Ropa Vieja and Croquettes to name a few.
Main dishes: Seared Duck Breast on a bed of mashed Malanga, Chulaton (Pork Chop) and Mamposteo with mushrooms and chorizo. Tempura Shrimp and Mushroom Risotto, Steak Burger, Fish prepared whole or as a filet. Tuna, Chillo, Dorado, Swordfish to name a few of the choices,
The food and dining experience was excellent, so much so that we returned a few days later for Easter Sunday lunch :o)
Brunch items include: Pancakes, French Toast, Brisket, Grilled Cheese, CB Eggs Benedict and bottomless Mimosas
Queso Bola Frito with a Mermelada de Tomate.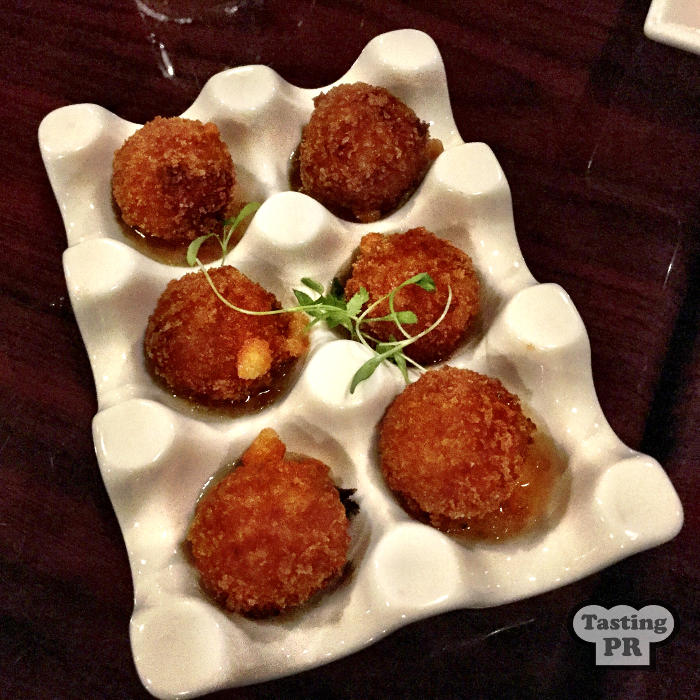 These were our favorite appetizers. Small bite size morsels of deep fried cheese; crispy on the outside, soft and cheesy inside. These were a huge hit and rather addictive…
Chulaton with Mampo (Mamposteo Rice with Mushrooms and Chorizo)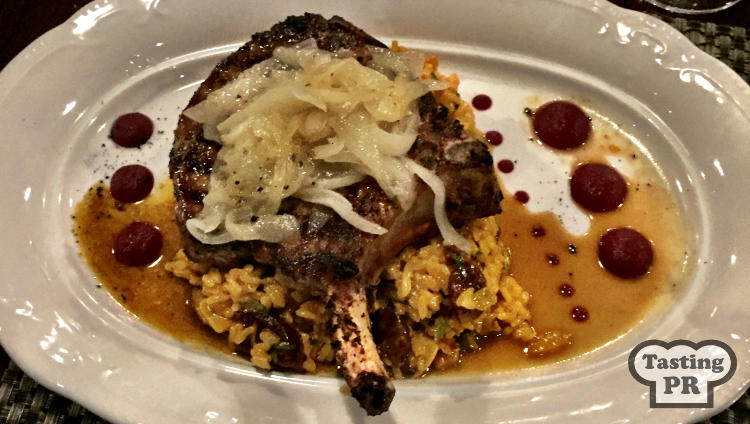 So good my Father-in-law ordered again when we returned for Easter Lunch. Pork was perfectly cooked, tender and paired perfectly with the full flavored Mamposteo Rice,
Tempura Shrimp with Mushroom Risotto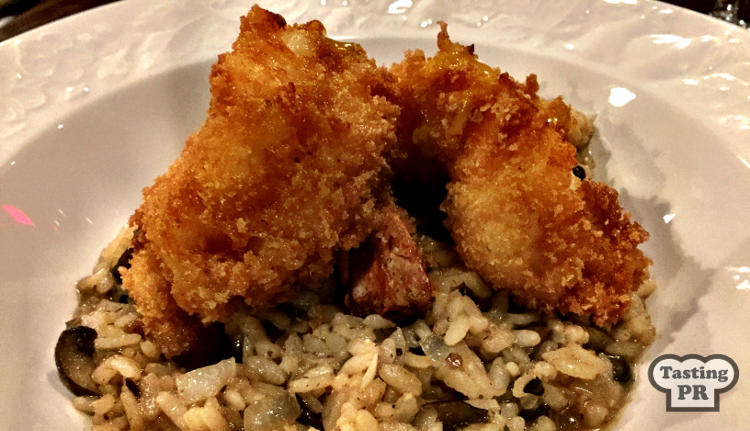 Beautifully presented dish consisting of 2 very large butterflied shrimp in a crispy tempura batter served with a delicious creamy mushroom risotto
Seared Duck with Mashed Malanga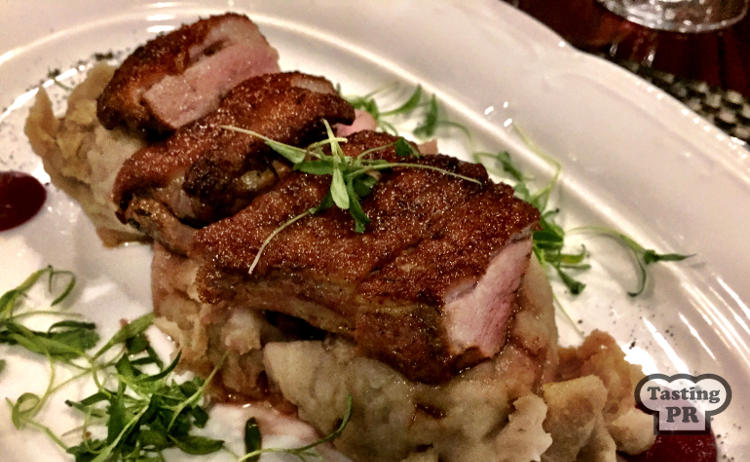 I am always tempted to try duck when it is on a menu, so I had to give this one a try and loved it. It was definitely one of the best duck dishes I have had in a long time. Loved the presentation and loved the combination of the duck with the creamy malanga. If you have not tried malanga before give it a try, really makes for a great change from regular mashed potatoes.
On our second visit for Easter Lunch the children enjoyed the pancakes both regular and choco versions, the huge grilled cheese and my wife enjoyed CasaBlanca's take on French Toast.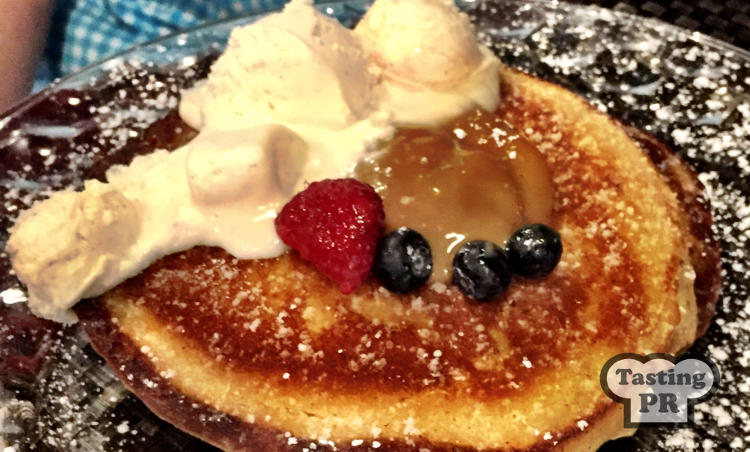 Even though it was lunch time, we were fortunate that the kitchen was also able to also prepare a couple of dishes from their dinner menu; which was another plus for CasaBlanca.
CasaBlanca is a great family spot in Guaynabo, where Chef Ventura Vivoni and his team produce dishes made with fresh local produce that both look and taste amazing.
Needless to say, we will be back to work our way through their menu.
More reviews of CasaBlanca Neighborhood Grill @ Tripadvisor and Yelp
CasaBlanca Neighborhood Grill
Location: 401–499 Calle Sirio, Guaynabo
GPS: 18.398811, -66.107943
Hours: Tue – Thur 12-10pm, Fri 12-11pm, Sat 10am – 11pm, Sun 11am – 9pm
Tel: 787-946-9000
Parking: Street parking and Valet Parking ($)
More Info: Facebook