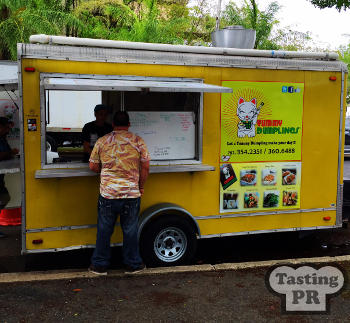 Located on the corner of Avenue Arterial Hostos and Calle Chardon, Yummy Dumplings is a popular food truck in San Juan serving up delicious Asian Cuisine.
The menu at Yummy Dumplings is short and simple with regular items and daily specials. Typically you will find:
Dumplings with various fillings including: cerdo (pork), pollo (chicken), churrasco, malanga (vegetarian). Served with dipping sauce; Soy Sauce, Wasabi, Ginger, Spicy Mayo or Thai Chilli
Lo mein or Yummy Rice with your choice of churrasco, chicken, shrimp
Daily Specials: Korean Tascos, Spicy Crab Wrap Seaweed Salad and more
For lunch the other day I enjoyed some Chicken Dumplings with Soy Sauce and the Lo mein with Churrasco.
The dumplings were super tasty and there was certainly no skimping on the fillings. The dumplings were steamed and then lightly fried and paired with the soy sauce made for a great start to lunch. In fact the 8 dumplings were a meal in themselves and at just $6 a real bargain.
The Churrasco Lo Mein was another hit, perfectly cooked noodles and vegetables, flavorful sauce and tender churrasco. For $8 you can't go wrong.
Being on my own I was unable to sample the 'yummy rice' but based on reviews I have read; I'll be giving this a try next time.
Street Parking near Yummy Dumplings can be a bit tricky as the area is very busy especially at lunch time, but if you have problems finding a spot, there is a public parking lot right next to their location.
Yummy Dumplings is a popular food spot in the Hato Rey area of San Juan and well worth checking out if you are in the area and are craving some tasty Asian food at great prices.
Tip: If you are in a rush, phone ahead and place your order and they will have it waiting for you when you arrive.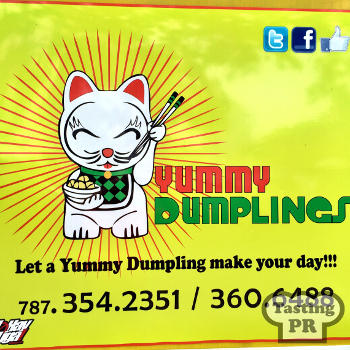 More photos of Yummy Dumplings
More reviews of Yummy Dumplings @ Yelp & Foursquare
Yummy Dumplings
Location: Corner of Avenue Arterial Hostos and Calle Chardon, San Juan
GPS: 18.425100, -66.064111
Open: Mon – Fri 11am – 3pm
Parking: Street Parking (if you are luck), near by parking lot
Tel: 787-360-6488
More Info: Facebook
Find on Google Maps