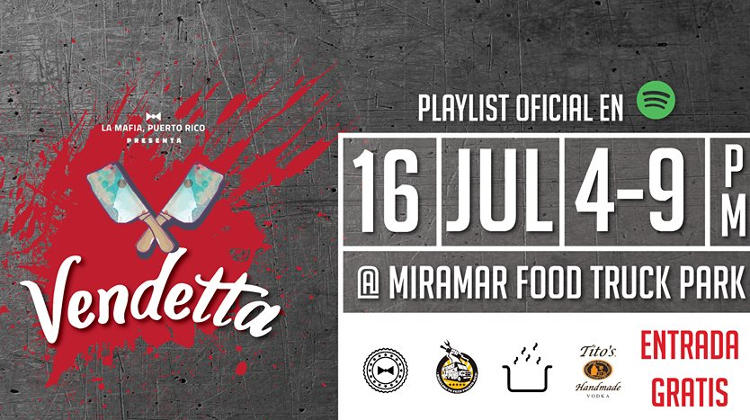 Vendetta @ the Miramar Food Truck Park hosted by La Mafia, Puerto Rico and Open Food Puerto Rico returns this Sunday July 16 from 4-9pm
5 top chefs will take over 5 food trucks for a super chef food truck throw down with each chef creating 3-4 mouth watering dishes for you to enjoy. Along with the great food there will be live music to ramp up the party atmosphere.
Saturdays event will see:
Chef Martin Louzao from Cocina Abierta / Touro Restaurant @ Yummy Dumplings
Chef Sebastián A. Ramírez-Lohner from Parcela Gastropub @ The Meatball Company
Chef Carlos Portela from ORUJO Taller De Gastronomia @ La Chilanguita Food Truck
Chef Nasha Fondeur @ Cool Hope Artisan Ice Cream
Chef Ventura Vivoni Rivera @ Que Tostón Food Truck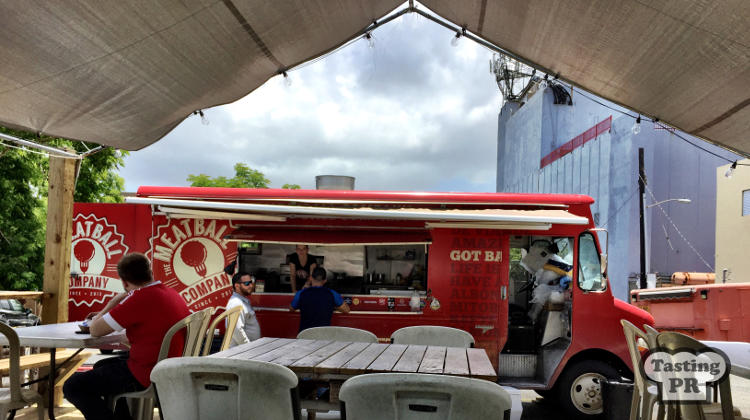 Food Truck Menus
Yummy Dumplings menu by Chef Martin Louzao
Korean Mandoo Duck Dumplings
(house made brussel sprouts kimchi, ginger broth)
Local Blue Crab Summer Roll
(nuoc cham sauce, housemade sriracha, cashews)
Thai Conch Salad
(green papaya, brown rice noodles, lemongrass dressing)
Coconut Tuna Poke Alcapurrias
(taro chips, hamajang smoked hot sauce)
The Meatball Company menu by Chef Sebastián A. Ramírez-Lohner
Sloppy Pork
(buns roll, pork meatloaf, sloppy sauce, crispy onion, B&B pickles)
Chili Dog
(baguette, beef hot dog, chili & cheese sauce)
Smoked Shroom Sub
(baguette. Smoked portobello "balls", marinara, queso)
La Chilanguita menu by Chef Carlos Portela
Panas cpn Bacalao
(tostadas de panas, bacalao guisao, aguacate)
Tacos de Lechon Asado
(lechon asado, cuerito maduro, relish)
Embutidos Trio
(totopos, butifarra, morcilla, chorizo, frijoles blanco)
Birria Bowl
(arroz con tocino, birria (cabrito), truffle shoestrings, queso fresco)
Que Tostón menu by Chef Ventura Vivoni Rivera
Patacon con Ceviche de Setas
(crujiente platano aplastro', setas, queso, hiebras)
Risoteo de Platano
(queso "kabra", setas. Salchicha con chuleria en pote)
Noqui de Panas
(pinchitos de camarones gamberetti, edamame)
Natilla de Batata
(coco y del de mango, chicharron de coco)
Cool Hope Artisan Ice Cream menu by Chef Nasha Fondeur
2Ble Choco
(fudge brownie mint ice cream, peanut creme anglaise, caramel popcorn)
Tropical Sundae
(mango passion sorbet, champagne sabayon, spiced caramel popcorn, tropical salpicon)
Banana Bread Pudding
(coffee ice cream, spiced run caramel, peanut brittel)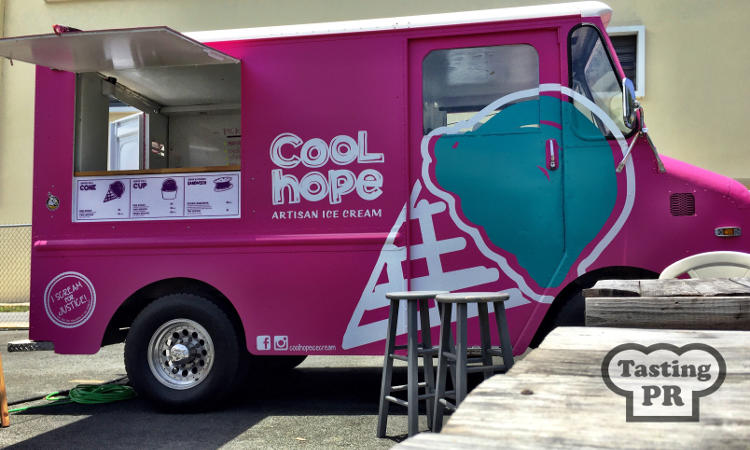 So there you have it, 5 Chefs, 5 Food Trucks & 5 Mouth Watering Menus; all happening at The Miramar Food Truck Park this Sunday July 16, 4-9pm.
Vendetta at the Miramar Food Truck Park
When: Sunday July 16, 2017 from 4-9pm
Location: Miramar Food Truck Park, San Juan
GPS: 18.453083, -66.078548
Parking: Limited + Street Parking
More Info: Facebook