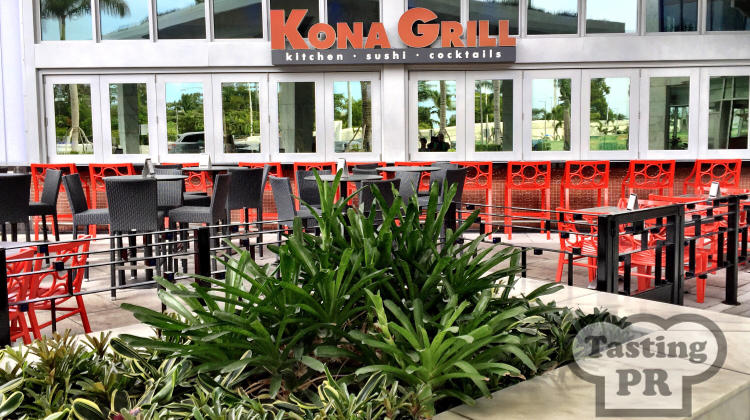 We were looking for a place for lunch on Three Kings Day and headed over to Kona Grill at the Mall of San Juan.
Kona Grill has a great ambiance, sophisticated décor and it turns out, is pretty kid friendly. You have the choice of indoor or outdoor seating as well as seating at the bar.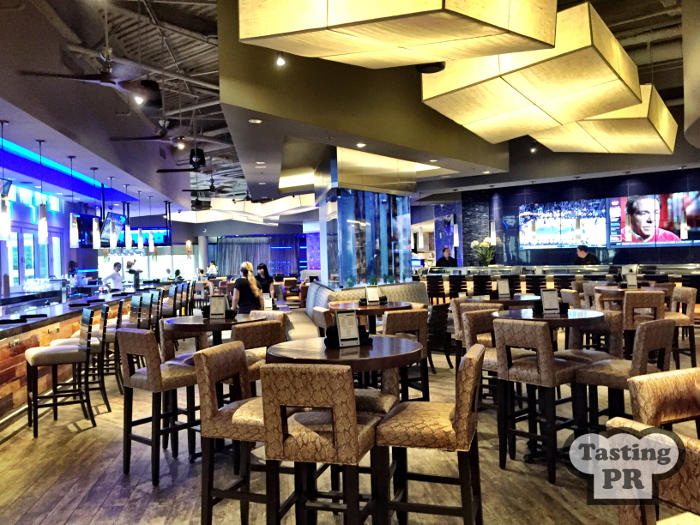 We grabbed a table by the fairly large fish tank, which the children were a little bit weary of at fisrt, but once they saw Nemo, they were enthralled by the various fishes in the tank.
While we checked out the menu, our server brought over a couple of 'Etch A Sketch's' for the kids, which was a nice touch and meant the iPads stayed off for a while.
The menu at Kona Grill is extensive and varied, with a separate Sushi Menu and a good selection of craft beers, wines and spirits.
For craft beer fans, Kona Grill had a couple of local Harbor Brewery Beers on draft as well as draft Medalla and Samuel Adams Boston Lager.
The children were hungry so we ordered the cheese pizza from the kids menu. The thin crust pizza was a hit and it disappeared in minutes
The rest of use started with Salmon Wasabi Sashimi, California Rolls, Potsickers and the Spinach and Artichoke Dip.
The Salmon Sashimi and the California Rolls were excellent. The Potstickers had good flavor, but the texture was just not quite on point. Everyone agreed that the Spinach and Artichoke Dip was the hit of the appetizers. The dish was prepared with whole spinach leaves and chunks of artichoke, which was a refreshing change to the typical blended dip that you find at many places.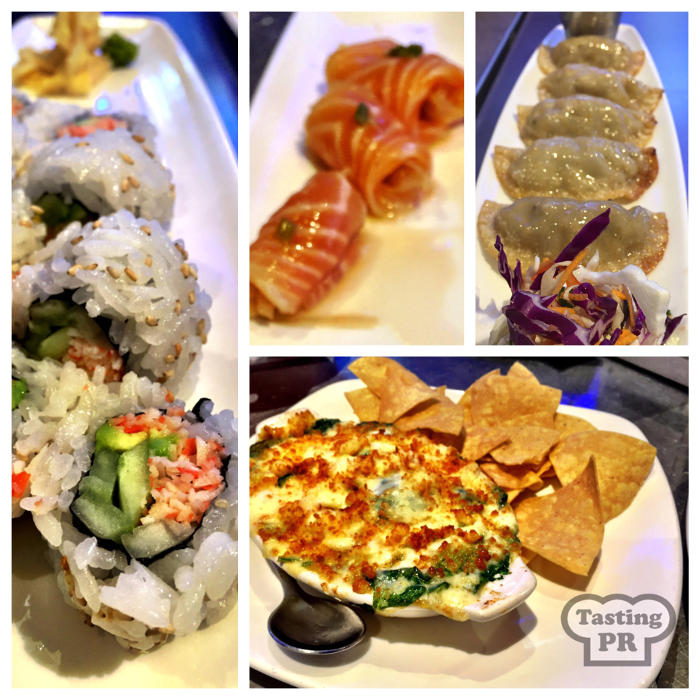 There is a varied choice on the main menu and I actually had a hard time narrowing down what I wanted as everything sounded so good.
My Father-in-law went with the Kona Churrasco served with seasoned mash and vegetables and he used one word to describe the dish 'Excellent'. I did not get to try it, but I will take his word for it :o)
My Mother-in-Law went with the Sweet-Chili Glazed Salmon. The salmon was moist and full of flavor and was complemented by the delicious fried rice.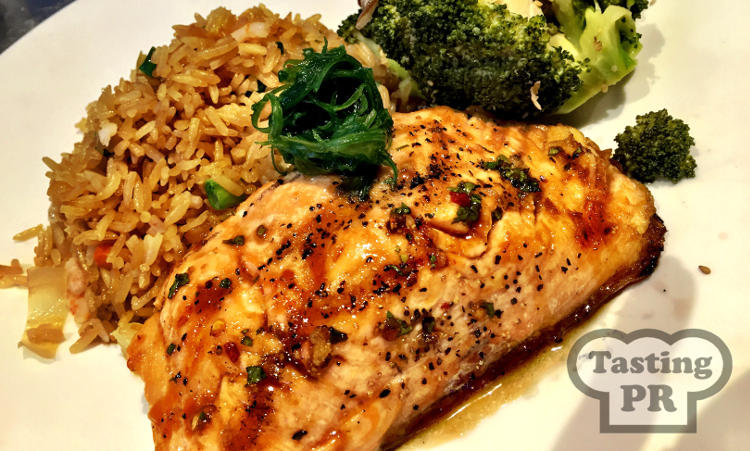 My wife chose the Chicken Caprese Sandwich. Ciabbata filled with great tasting Chicken, Tomato, Mozzarella, Baby Arugula, Basil Pesto Aioli and accompanied with a side of Sweet Potato Fries.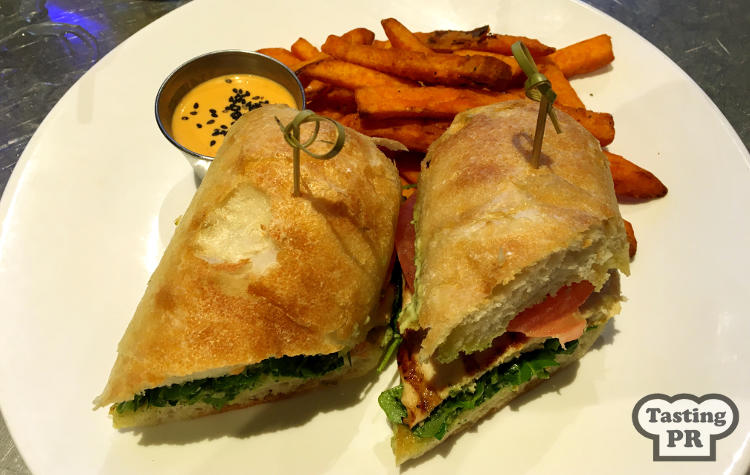 I went with the Miso-Saké Sea Bass* served with Shrimp & Pork Fried Rice, and Pan-Asian Ratatouille. This is a dish I could eat again and again. I am a huge fan of Sea Bass and Kona Grills take on it was exquisite. Perfectly cooked and seasoned Sea Bass that melted in the mouth, accompanied by some of the best fried rice I have tasted in a long time. I really loved this dish.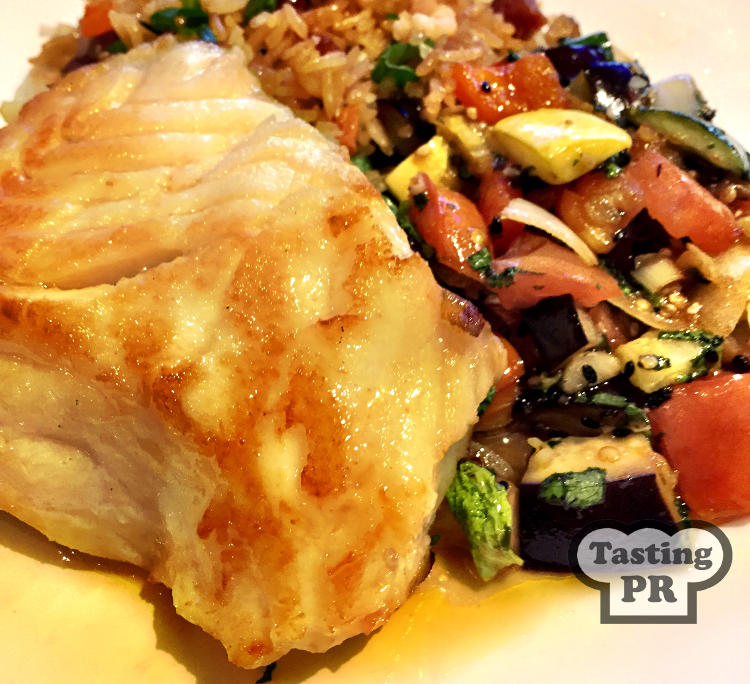 We ended the meal with Kona's Fudge Brownie that was devoured mostly by my son. From the small piece that I tried and the huge smile on my sons face, I can say that this was also a great dish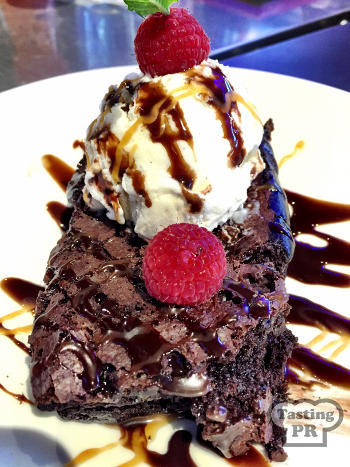 Service was excellent, the food looked and tasted great and we will definitely be back to sample more.
Kona Grill
Location: Ground Floor @ The Mall of San Juan
GPS: 18.412258, -66.024242
Parking: Valet Parking and regular Mall parking
Restaurant Hours: Mon – Thur 11am – 11pm, Fri – Sat 11am – 12am, Sun 11am – 10pm
Bar Happy Hours: Mon – Fri 3 – 6pm, Mon – Thur 9 – 11pm, Fri – Sat 10pm – 12am
Tel: 787-303-4275
More Info: Kona Grill