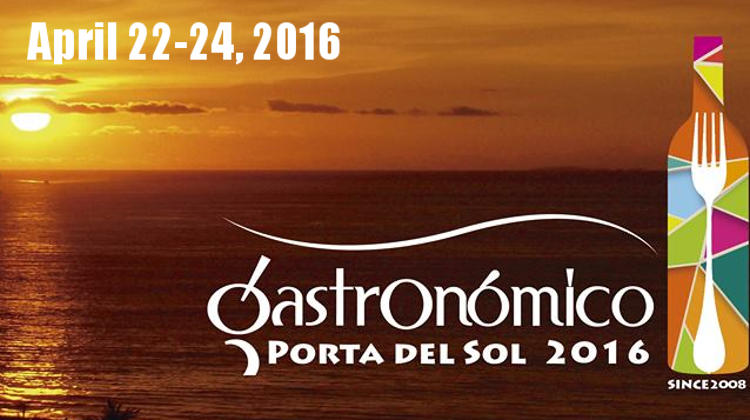 The 2016 Festival Gastronomico Porta Del Sol takes place in Mayagüez from April 22-24 and is the largest food festival on the west coast of Puerto Rico.
The 3 day event will feature Top Chef Porto Del Sol as well as great food from international and Puerto Rico based chefs and special guest chef José Ramírez-Ruiz from popular Brooklyn restaurant Semilla.
Participating chefs include:
José Ramírez-Ruiz (Samilla, Brooklyn)
Chef Efrain Cruz (InterContinental San Juan Resort & Casino)
Chef Giovanna Huyke (Mio Restaurant, Washington)
Chef Angel Santiago (Lola Eclectic Cuisine, Ponce)
Chef Jeremie Cruz (Eclipse Restaurant, Isabella)
Chef Fernando Parilla (Asador San Miguel, Naranjito)
Chef Rosita Rosado
Chef Héctor Guzman (Top Chef Porta Del Sol 2015)
Chef Héctor Escobar (Top Chef Porta Del Sol 2014)
Chef Luis Piñeiro (Top Chef Porta Del Sol 2013)
Chef José Carles (Royal Isabela)
Chef Damian Hernandez (Jet Blast Bar & Grill, Aguadilla)
Chef Xavier Soto
Chef José Rodriguez (Ceviche 787)
And more…
Festival Gastronomico Porta Del Sol Schedule (subject to change)
Friday April 22
Coctel Una Noche 5 Estrellas, 8 – midnight @ Mayaguez Resort and Casino ($50pp)
An exclusive and elegant cocktail evening featuring Chef Jose Ramirez and seven Top Chefs from Puerto Rico.
Saturday April 23
Main Festival Event, 6 – 11pm @ Parque Litoral, Mayagüez ($60pp)
25 Top Chefs and more than 70 exhibitors including 40 restaurants, 15 houses wines, spirits and live music.
Sunday April 24
Brunch & Mimosa's Tasting, 10am – 2pm @ Mayaguez Resort and Casino ($35pp)
Festival Gastronomico Porta Del Sol
When: April 22 – 24, 2016
Where: Mayaguez
More Info: Website