This Easter Sunday, March 27, The Ritz Carlton in San Juan would like you to: indulge in a culinary extravaganza, with a sumptuous spread of mouthwatering dishes and let your children enjoy the magic of Easter at The Ritz-Carlton, San Juan with activities and an Easter egg hunt.
BLT Steak's Easter Market Buffet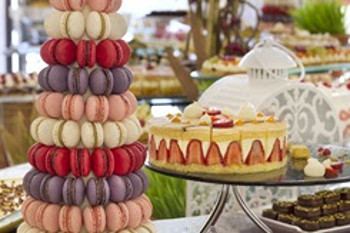 Enjoy a lavish presentation of your brunch favorites, along with an array of specially selected BLT Steak side dishes. Families will be treated to indulgent stations as well as a delectable dessert presentation. Adults will be delighted with a frosty effervescence mimosa.
Seating's available between 10:30am and 2:30pm
$89 per adult, $42 per children for ages 12 & under, complimentary for ages of 4 and under
More Info: Reservations are required and must be guaranteed with a credit card. 787-253-1700 ext. 4240.
Easter Egg Hunt & More
Starting at 1pm, families can explore the beautiful hotel's gardens in search of hundreds of treasure-filled eggs. The Easter Bunny will be on hand to meet and take photos with children, when they're not too busy hunting for eggs.
More Info: 787-253-1700 ext. 4177
Update: Mon Mar 21, 2016
We just received the mouthwatering menu for the BLT Steak's Easter Market Buffet:
Antipasti
Portobello Mushrooms/ Pesto Roma Tomato,
Grilled Zucchini and Yellow Squash / Grilled Asparagus/ Roasted Peppers
Jared Marinated Vegetables (Cauliflower a la Grecque/ Artichokes in Olive Oil/ Sun Dried Tomatoes/
Assorted Olives)
Goat's Cheese/ Roasted Tomato Confit/ Bread Crisps
Roasted Pepper Tart/ Olives/ Feta Cheese
Pea Flan/ Corn Mushroom Salad
Salads
Romaine Spears/ Candied Almonds/ Blue Cheese/ Sherry Vinaigrette
Potato Salad/ Chorizo/ Peppers/ Creamy Buffalo Dressing
Tomato & Avocado Salad/ "Queso de País"/ Guanabana Dressing
Artisan Cheese
Local and American Cheeses
House Made Jam & Preserves/ Local Honey
Dried Nuts and Fruits/ Local Guava Paste
Charcuterie Selection
Prosciutto/ Salami/ Capicola/ Local Chorizo
Country Style Pate with Smoked Bacon
Assorted Mustards/ Pickles
Artisan Breads and Breakfast Pastries
Assorted Boules/ Rolls/ Baguettes and House Made Lavash
Selection of Quesitos
Seafood
Hand Made Sushi & Nigiri
Wasabi/ Pickled Ginger/ Soy Sauce
Jumbo Shrimp/ Crab Claws
Oysters on the Half Shell
Basil Mayonnaise/ Cocktail Sauce/ Mignonette/Lemon
Smoked Salmon (Chardonnay Smoked/ Apple Wood Smoked/ Dill Mustard Crusted)
Butcher's Block
Puerto Rican Roasted Pork "Pernil"
Roasted Prime Rib/ BLT Popovers
Port Wine Jus/ Horse Radish Cream/ Assorted French Mustards
Salmon in Puff Pastry with Spinach and Shallots (Citrus/ Chives/ Cream Sauce)
Live from the BLT Kitchen – Tapas
Jerk Glazed Pork Belly/ Plantain Mofongo/ Sofrito Broth
Grilled Mahi/ Citrus Caper Ajillo Sauce/ Pigeon Pea Risotto
Yucca Gnocchi/ Leek Tagettelli/ Wild Mushrooms/ Madeira Cream
Sides
BBQ Corn and Bacon/ Savory Rice
Farm House Cheddar & Jalapeno Potato Puree
Grilled Asparagus & Braised Carrots

Brunch Selection
Sofrito Pork Hash/ Tostones/ Fried Egg Cilantro Hollandaise
Pineapple Guava Pancake/ Churro Sugar
Pastry Shop
Coconut and Passion Fruit Chocolate Mousse
Praline and Caramel Peanut Cake
Banana and Pineapple Cake
Dulce Chocolate Caramel
Leche Flan Cake
Mango Pudding
Yaucono Coffee Mouse
Pineapple -Coconut Tart
Ginger Creme Brulee
Chocolate Creameux
Raspberry Cream
Source: Press release