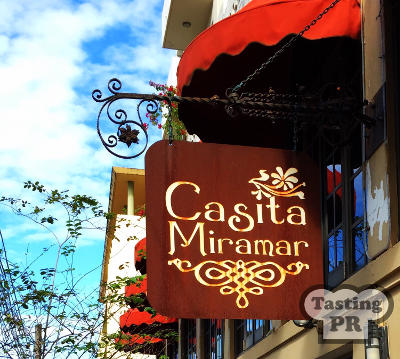 Tucked away in the Miramar district of San Juan, Casita Miramar turned out to be a delicious find.
Casita Miramar is located on the second floor of the legendary Toro Hotel at the corner of Calle Miramar and Calle McKinley.
The stairway entrance gives you two choices as to where you would like to eat.
Take the stairs to the right and you end up in the balcony dining area overlooking the Miramar streets.
Take the stairs to the left and you arrive at the main elongated dining area complete with eclectic antique furnishings, cookbooks and a mismatch of dining chairs that all add to the charm of the restaurant.
Whichever dining area you pick, you will be in for a mouthwatering dining experience.
We visited Casita Miramar for a Sunday Lunch and surprisingly we were seated after just a few minutes wait (we got lucky as wait times can be long). Once seated and before we were even able to order our drinks we were greeted with a sampling of plaintain soup and bacalaitos (cod fritters, a popular local dish).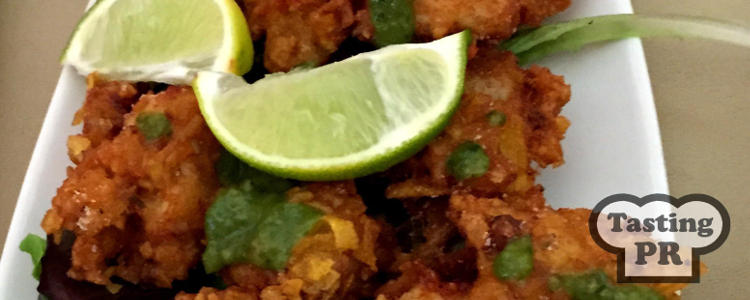 The plaintain soup was thin in consistency and big in flavor and along with the perfectly cooked bacalaitos opened up our appetites for the hand written chalkboard menu.
Menu items vary depending on what is fresh and available to Chef Leonardo Pérez and don't be disappointed if your first choice dish is sold out, your second choice will be just as delicious.
We started our meal with a selection of typical Puerto Rican appertizers; Barriquitas de Vieja (pumpkin fritters) and Chicharrones de Tiburon (shark bites). The Barriquitas were a hit with my wife and mother-in-law, but were a little too sweet for me, so I enjoyed most of the shark bites, so that was a win for me…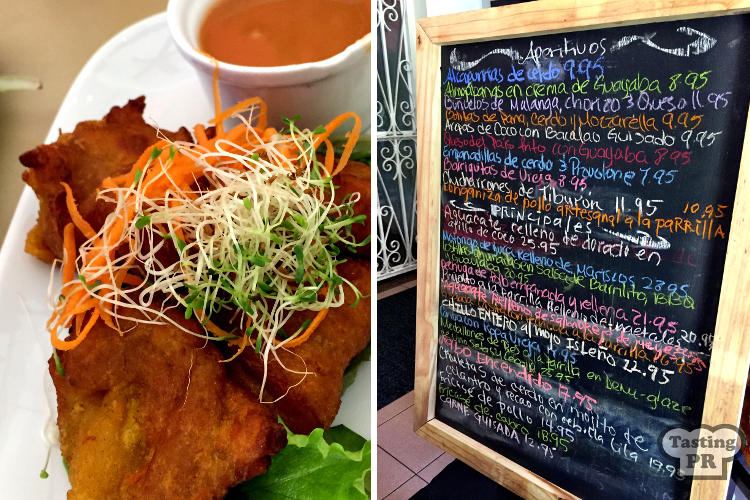 For our main dishes, everyone picked something different and no one was disappointed. Each dish was beautifully presented and by the end of thye meal everyone's plate was empty…
The Mofongo de Yuca con Camerones (Mofongo and Shrimp) was packed full of flavor with a moist youca mofongo and perfectly cooked and seasoned shrimp.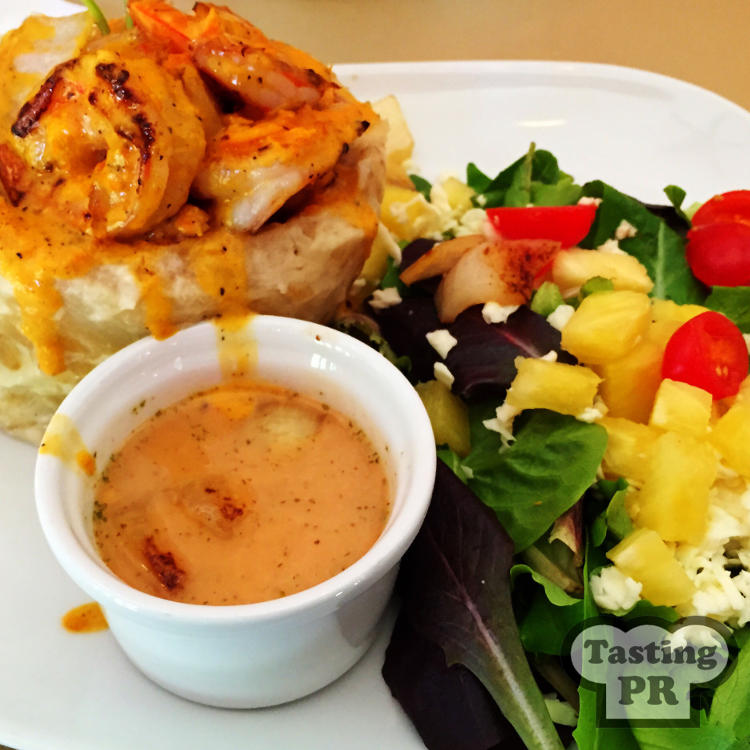 The Chuleta de Cerdo (Pork Chop) was served with tostones de pana (breadfruit tostones) and was a huge success.
Unfortunately my first choice dish 'Aguacate relleno de dorado' (stuffed avocado with mahi mahi) was sold out :o( but my second choice turned out to be just awesome.
The Medallions de Res and Salsa Cebolla (Beef Medallions and Onion Salsa) was the star dish for me. The tender beef and rich onion and mushroom sauce were served with a a creamy yuca mash that all came together perfectly. I was sorry to see the plate empty.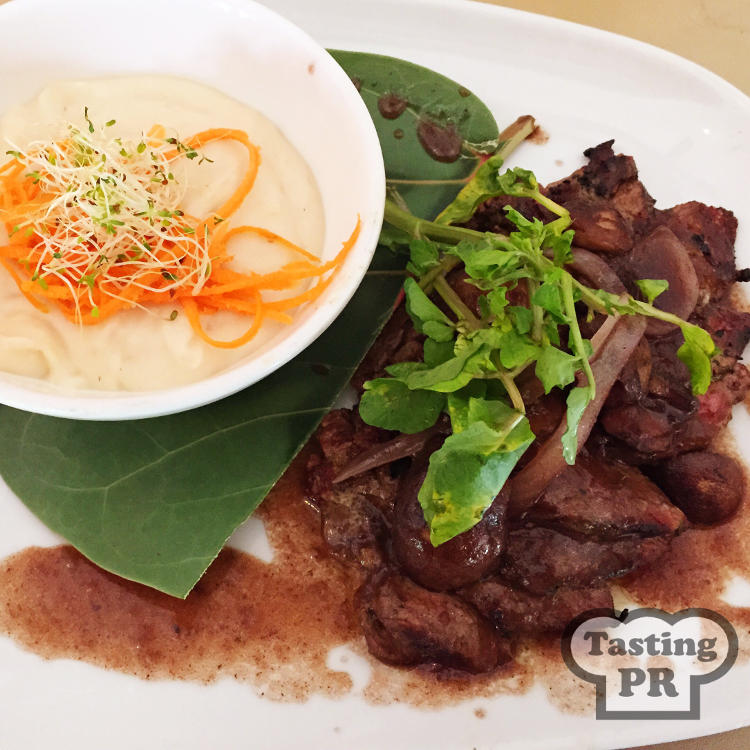 The food at Casita Miramar was first rate, beautifully presented and enjoyed to the fullest, in a restaurant that prides itself of using fresh local produce. Next time we will definitely save room for dessert, though will probably pass on the coffee.
Take a look at more photos from Casita Miramar
More reviewsof Casita Miramar @ Tripadvisor, Yelp and Foursquare
Casita Miramar
Location: 605 Calle Miramar, San Juan
GPS: 18.455894, -66.085147
Parking: Parking lot across the street
Tel: 787-200-8227
Website: Facebook