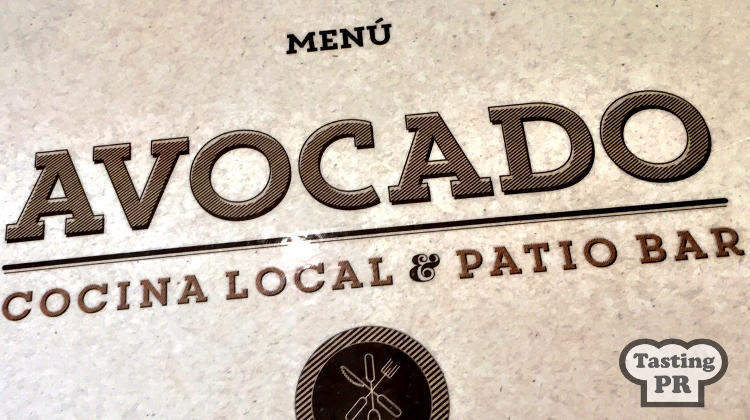 Sunday lunch is always a great way to check out a new restaurant and a couple of weekends ago we headed to Avocado Cocina Local & patio Bar in Guaynabo.
Ariel Pertusi and Nestor Canel have created a cool and contemporary restaurant that incorporates an open kitchen and chefs tablein the main dinining area. To the back of the restaurant there is a cool outside patio area with a canvas roof.
In the kitchen Chef René Marichal and his team prepare dishes based on fresh and seasonal ingredients including as the name suggests 'Avocado'.
The menu is creative yet not overly extensive and is supplemented with daily specials. Items such as Tartare de Atun con Aguacate, Spring Rolls de Paseles, Stuffed Porked with Yuca and for dessert Avocado Sober and Tempura Brioche jump out from the menu.
Our meals
We started with a couple of the appetizers (it was actually quite hard to choose as all of the appetizers sounded amazing).
Croquetas de Risotto. A creamy risotto with gandules topped with shredded lechon (pork). Simply delicious.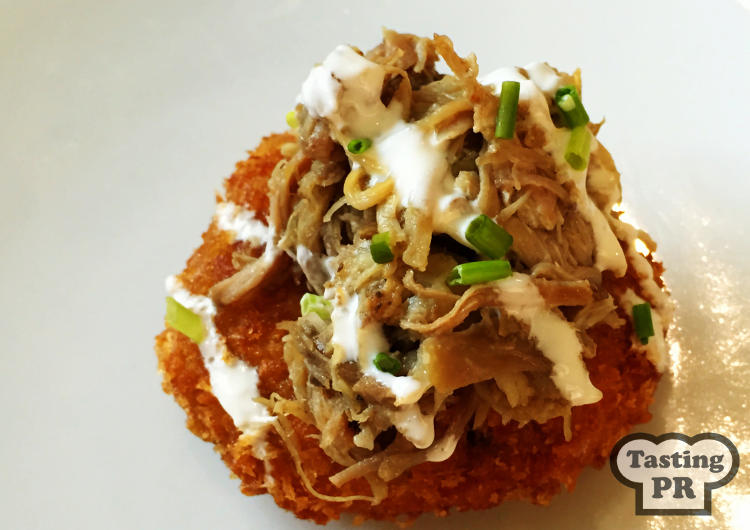 Chicharrones de Pescado. Tempura battered fish pieces with a cilantro aioli. The tempura batter was perfectly light and crispy and the fish perfectly cooked. These simple fish bites were excellent.
Pechuga de Pollo Rellena. Chicken breast stuffed with FuFu and accompanied by a Rum and Tamarind Salsa. The dish was ordered with Mamposteo Rice.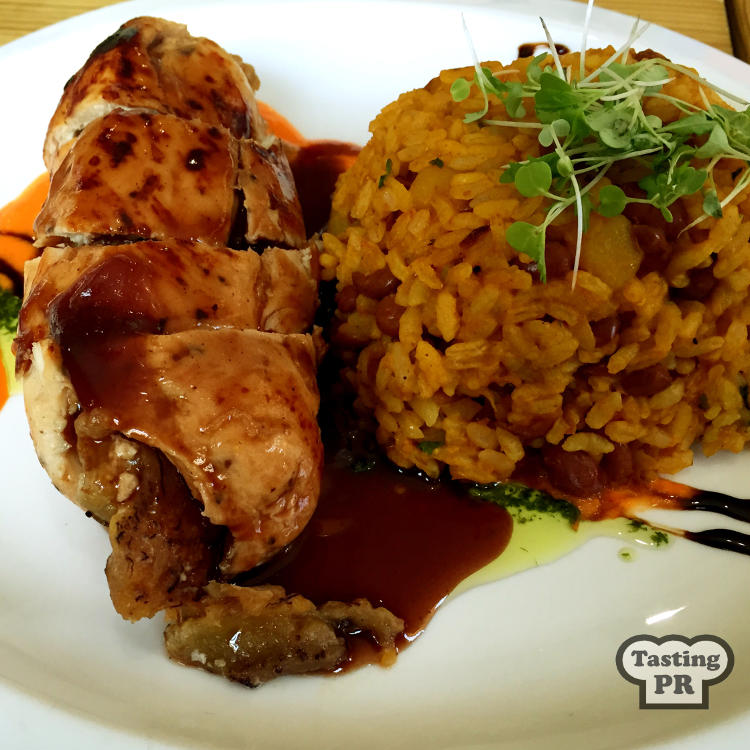 My wife raved about this melt in your mouth dish. The moist tender chicken breast paired perfectly with the flavorful FuFu and tamarind salsa. The mamposteo rice was also exceptional.
FuFu (I had never heard of it), is usually made from mashed yams and is slightly sweet in taste.
Pork Belly with Gandules Risotto (Special fo the day). I'm a sucker for pork belly, so whenever it is on a menu I have a tendency to order it. The version at Avocado was divine. The pork belly was perfectly cooked, crispy crackling (skin), moist and tender pork that combined perfectly with the delicious risotto. The Chicken stuffed with FuFu might have been my wife's favorite but hands down the Pork Belly was my pick of the meal.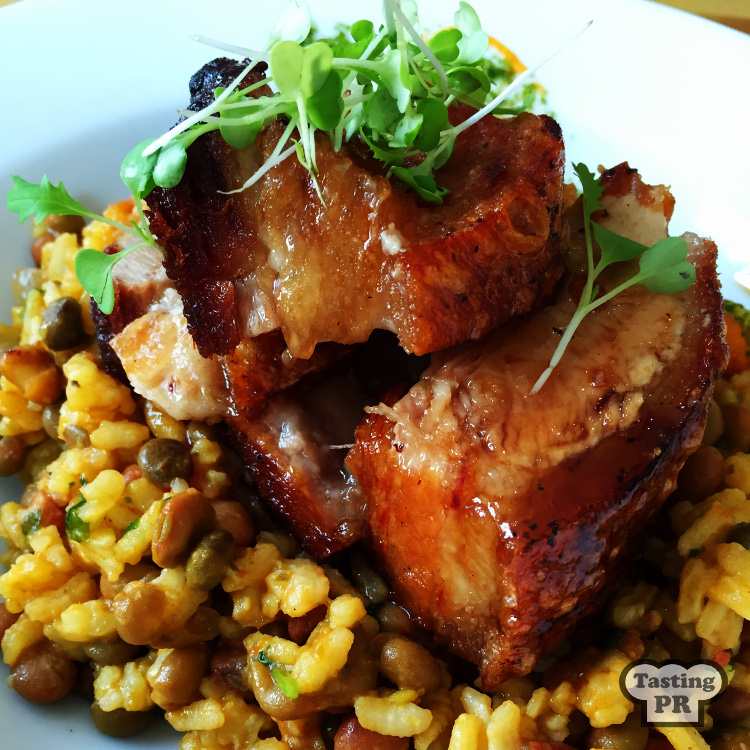 For dessert we tried the brownie and ice cream. The consistency of the brownie was excellent and the flavor was OK. Overall not as great as the rest of the meal.
Advocado Cocina Local & Patio Bar is a contemporary restaurant serving up local cuisine with a creative touch.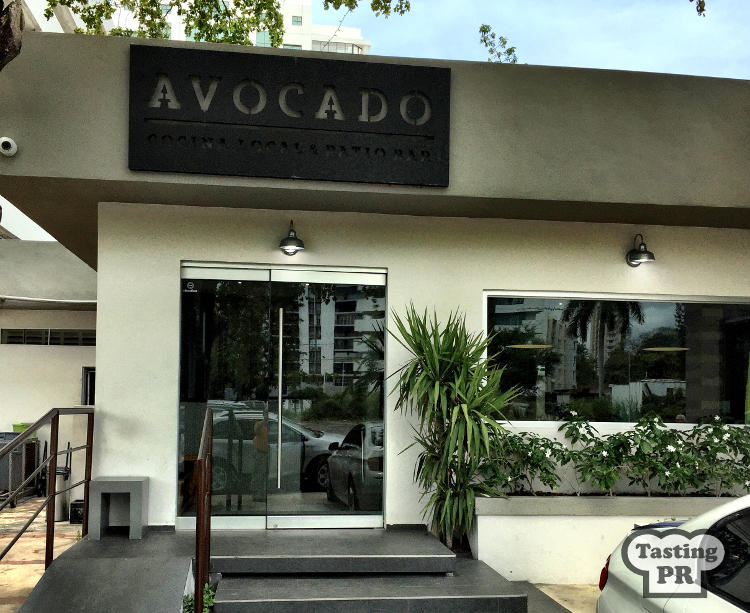 Along with their regular menu and daily specials the restaurant offers a Chefs Table 'dining experience as well as special themed evenings and 'Pop Up Restaurant' nights.
Aside from the food being a Patio Bar the restaurant also has an exclusive cocktail menu created by Jonathan Gonzalez and specialty spirits (liquors) such as Ketel One Vodka, Zacapa Run, Tequila Don Julio and more.
The staff were very knowledgeable and attentive, which just added to the great dining experience,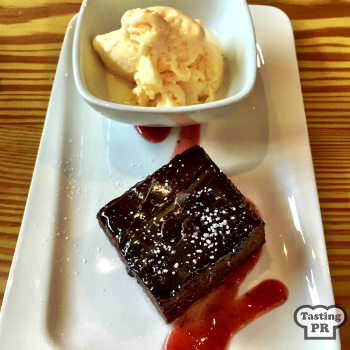 Take a look at more photos from Avocado Cocina Local
More reviews of Advocado Cocina Local @ Tripadvisor, Yelp
Foursquare
Advocado Cocina Local & Patio Bar
Location: Calle Parkside 4 #B-3, Guaynabo
GPS: 18.409204, -66.103306
Parking: Yes plus Valet Parking
Tel: 939-204-4532
Website: Facebook
Find on Google Maps