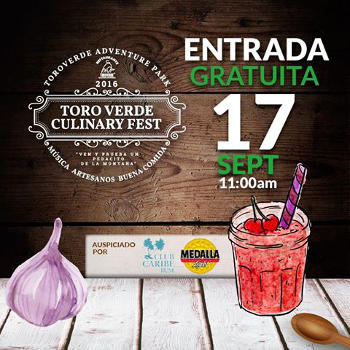 On Saturday September 17 Toroverde Adventure Park in Orocovis will be hosting their very own Toroverde Culinary Festival, featuring a number of restaurants from the Orocovis area.
Participating restaurants will be creating festival dishes for $5 per plate and entertainment will be provided by Daniel Diaz and his Tripandero. There will also be local artisans showcasing their work and plenty to keep the children entertained.
Participating restaurants include:
La Sombra
Ciclon
Vagoneando
Piketas
Cafe Licor
Rulys Pizza
Dardenelos
Yoguloli
Why not combine the Toroverde Food Festival with one of the many zipline attractions at the adventure park including; The Beast and the longest zipline in the world The Monster.
Just a thought, but you may want to try the ziplines first before enjoying all the great food :o)
Toroverde Culinary Festival
When: Sunday September 17, 2016
Location: Toroverde Adventure Park, Orocovis
GPS:
Parking: Yes
More Info: Facebook & Website
Tel: 787-867 7020 & 787-867-6606