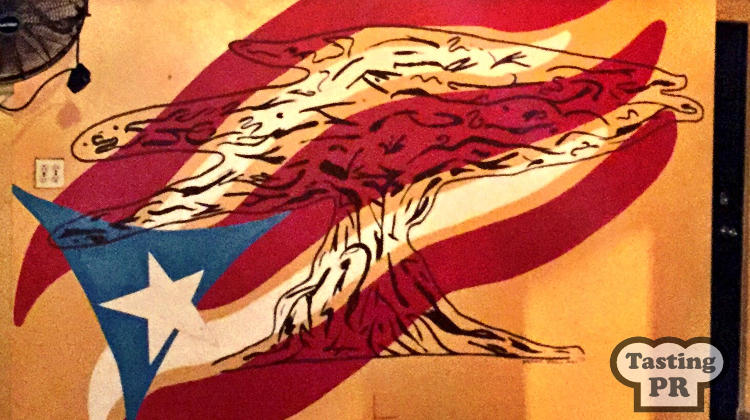 The folks at Terruńo are raising the bar when it comes to the Luquillo Kiosks with their creative artisan take on traditional Puerto Rican Dishes.
Located at Kiosk #20, Terruńo is a large open aired kiosk with a tastefully decorated interior that would not look out of place in the streets of Old San Juan. The main dining area stretches back to a large covered terrace with beach and ocean view. Now this is not the official Luquillo Beach, but the views at sunset can be impressive.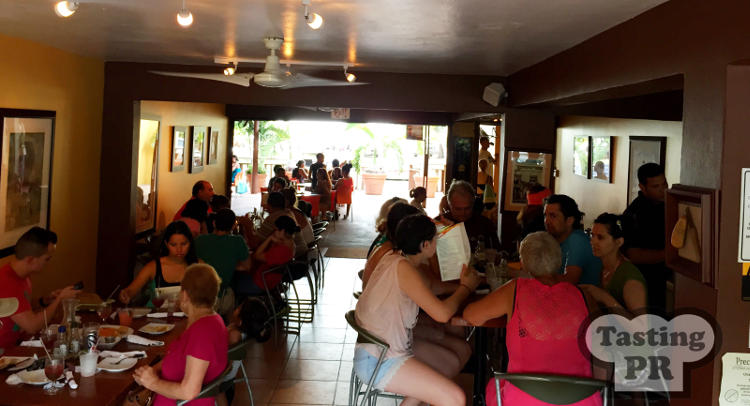 Terruńo is known locally for their conejo (rabbit) dishes such as Chicharrones de Conejo (Crispy Rabbit Chunks), Pastelillo de Conejo (Rabbit Turnover), Conejo Deshuesado a la Parilla (Grilled Boneless Rabbit) and Conejo en Fricasé (Rabbit Stew). Now I can't comment on these dishes but I do suggest you try some of the following.
For appetizers the Queso Frito (Fried Cheese), Mini Alcapurrias (Plantain stuffed fritas) and Chicharrones de Pescado (Crispy Fish Chunks) were excellent. I especially enjoyed the lightly battered pescado.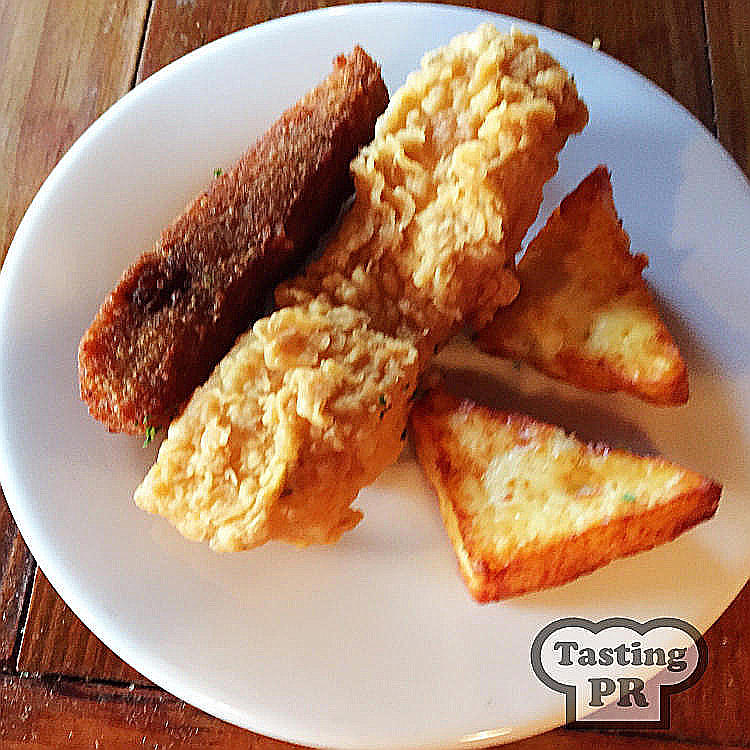 The Mofongo Relleno de Pollo (Mofongo stuffed with Chicken). The Mofongo was moist, and served with a delicious criolla sauce that had my wife proclaim that it was one of the best mofongos that she has had in a long time. The dish also looked amazing.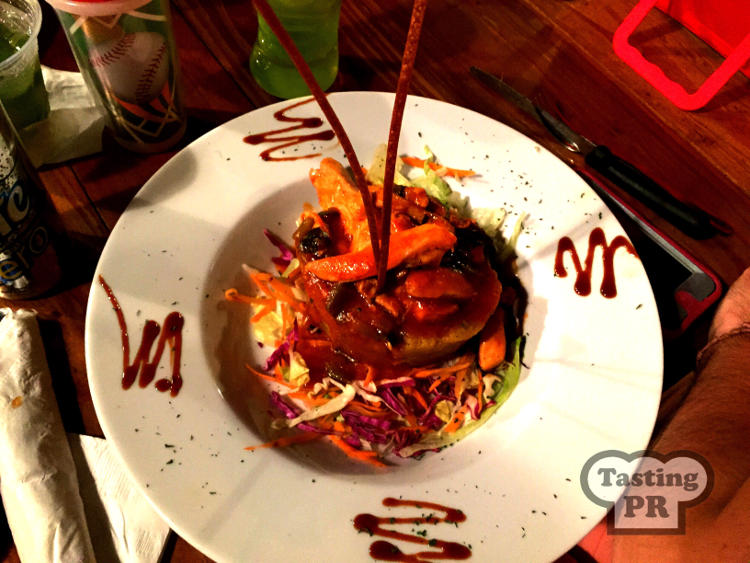 The Arroz con Coco de Pescado (Coconut Rice and Fish) is probably one of the most interesting dishes on the menu. The coconut rice and fish are mixed together and then plated. The dish looks great with its pyramid of rice and fish, unfortunately it was just a little too sweet for our palates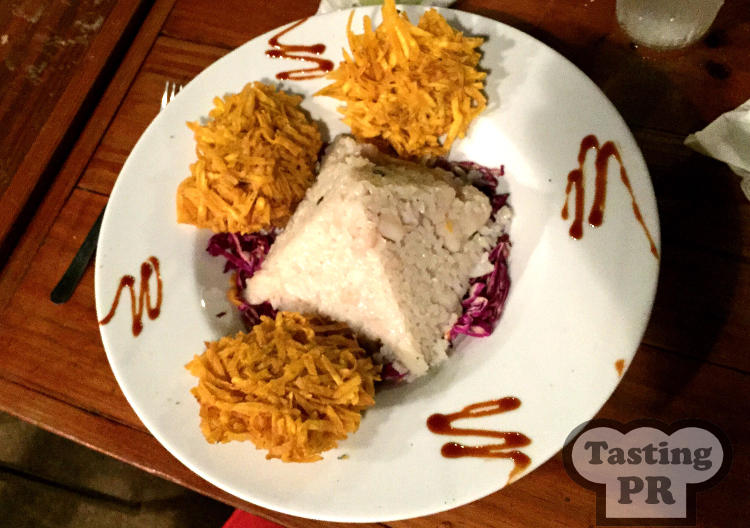 The Salmorejo de Jueyes (Crab Meat Stew) was the star of the meal. I'm not a huge crab fan, but this dish was packed with so much flavor; I wished I had ordered it for myself. You should definitely give it a try.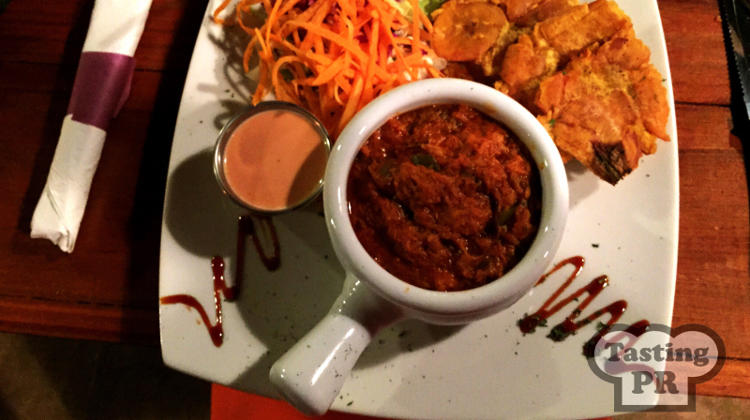 Terruńo is a cool spot amongst the many Luquillo Kiosks that is serving up creatively plated dishes that bring a new twist to traditional Puerto Rican cuisine.
The kiosk was very busy when we were there and the wait for the food was on the longer side, but not so much that it detracted from our overall enjoyment of Terruńo.
For an added bonus we got to see a cool sunset in between courses…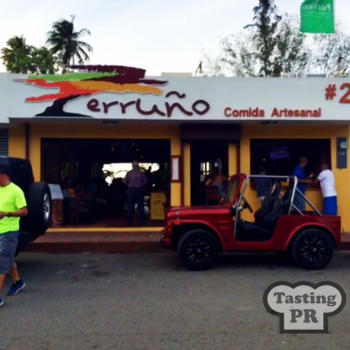 Terruńo is one of many great Kiosks at Luquillo and you should also consider: Jefe Burger, La Parilla and Ay Bonita to name a few.
More photos of Terruńo
More Reviews of Terruńo at Yelp & Tripadvisor
Terruńo
Location: Kiosk #20, Road #3, Luquillo
GPS: 18.380359, -65.736697
Tel: 787- 889-8989
Parking: general parking at the kiosks, but parking can be a challenge on weekends and holidays
More Info: Website & Facebook
Find on Google Maps