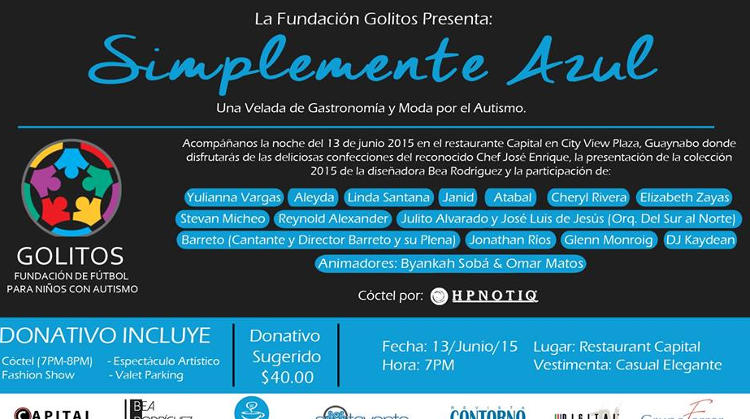 Chef Jose Enrique presents a special evening where Haute Couture and Fine Dining come together to raise much needed funds for the Golitos Foundation for Children with Autism.
The event takes place at 7pm at Chef Enrique's Capital Restaurant at City View Plaza in Guaynabo, with a suggestion donation of $40.
Guests will be able to enjoy cocktails and dishes from Chef Jose Enrique, the Fall Winter Fashion Collection from designer Beatriz Rodriguez and live music from special artists and DJ's.
Invited guests and artists include: singer and blogger Linda Santana, the Illusionist Reynold Alexander, singer full Barreto, journalist and TV presenter Byankah Soba, singer and composer Jonathan Rios, journalist and TV presenter Yuliana Vargas, singer Jose Luis De Jesus, singer Cheryl Rivera, songwriter Glenn Monroig, trumpeter Julito Alvarado, Miss Puerto Rico 1976 Elizabeth Zayas, pianist Stevan Micheo and more…
There will be live musical performances by Jonathan Rivers, Aleyda, Janid, Cheryl, Jose Luis de Jesus and Linda Santana and local DJ playing the hits of the 80's & 90's.
The Golitos Foundation for Children with Autism provides soccer related therapies for children with Autism.
For more information and tickets, call 787-413-0036.
More info on Fundacion Golitos
Event: Simplemente Azul
Location: Capital Restaurant at City View Plaza in Guaynabo.
GPS: 18.416829, -66.109114
When: 7pm, Saturday June 13, 2015
Cost: $40 (suggested Donation)
Tel: 787-413-0036