The Piña Colada born and bred right here in Puerto Rico, the official national drink of Puerto Rico and a drink that conjures up images of relaxing on a sun swept tropical beach with a cool and refreshing drink at hand.
You will find Piña Colada's everywhere in Puerto Rico: bars, restaurants, roadside kiosks, at the beach, all served with or without rum.
There may be disagreements about who exactly invented this iconic drink (we'll get to that later), but there is no dispute that when in Puerto Rico, it is a drink that you just have to try.
But why wait for your next trip to Puerto Rico, just grab a few ingredients and make yourself this refreshing frosty drink.
Here is a simple, yet delicious Piña Colada Recipe from Goya that I make often.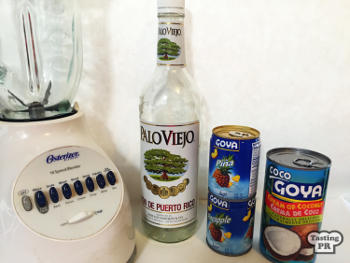 Ingredients:
1/2 cup of Cream of Coconut
1 Cup Pineapple Juice
1/2 Cup of White Rum (you can add more or less based on your preference)
2 Cups of Ice
A Blender
Method:
Place all of the ingredients in a blender and blend for 30-40 seconds, until everything is mixed thoroughly together. I like to let it stand for a short time, before pouring into glasses.
For those who prefer to omit the rum, just add about the same volume of water.
For garnish, add a cherry and pineapple wedges (completely optional)
Tip: It's not easy measuring out 2 cups of ice cubes, so instead measure the ice cubes by weight, 2 cups of water weigh 16oz (1 cup = 8oz)
Now back to the birthplace of the Piña Colada.
Both the Caribe Hilton Hotel and Barrachina Restaurant in Old San Juan claim to have invented the Piña Colada.
The Caribe Hilton claim that bartender Ramón 'Monchito' Marrero created the drink in 1954, whereas Barrachina claim that Ramón Portas Mingot made it first in 1963.
Now both recipes are a little more involved than the Piña Colada Recipe above, but if you would like to give them a try, here you go.
Caribe Hilton Piña Colada Recipe
2 oz rum
1 oz coconut cream
1 oz heavy cream
6 oz fresh pineapple juice
1/2 cup crushed ice
Mix rum, cream of coconut, heavy cream and pineapple juice in a blender.
Add ice and mix for 15 seconds.
Pour into a 12-oz. glass, garnish with fresh pineapple and a cherry.
Barrachina Piña Colada Recipe
24 oz Pineapple Juice – Cans
7.5 oz of Coconut Cream (Coco Lopez or Goya)
5 oz of Water (If you use ice and a blender, do not add the water)
Barrachina recommends that you do not mix the blend with ice. Instead freeze the mix stirring occasionally until frozen
Then add rum (to your taste) into a glass and add the frozen mix. Decorate with a cherry and pinaeapple chunks.
Now just head on down to your local supermarket, pick up the ingredients and enjoy