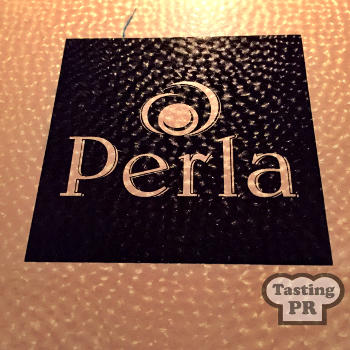 So we just had dinner at Perla Restaurant in La Concha Resort as part of Puerto Rico Restaurant Week and all I can say is UNBELIEVABLE.
Chef Dayn Smith, his kitchen staff and wait staff created a perfect dining experience for my wife and I.
As you know Puerto Rico Restaurant Week means a 3 course menu at a fixed price, $28 or $38 depending on the restaurant. So when I saw Perla was participating I headed to OpenTable and reserved a table for 2.
This was our first time at Perla and it will not be our last. From the moment we arrived to the moment we left everything was superb.
Perla's clamshell design , expansive windows overlooking the ocean and Condado Beach all add to an elegant atmosphere, that is matched by the amazing food that comes from Chef Dayn Smith's kitchen.
Perla's regular menu specializes in seafood with some amazing sounding dishes;
Grilled Squid Stuffed with Merguez
Pan Roasted Sea Bass with Maine Lobster and Truffle Risotto with Lobster Beurre Blanc
Baked Lobster Tail with Lobster Beurre Blanc with Sautéed Swiss Chard, Melted Leeks, and Truffle Mashed Potatoes
to name just a few.
For their Restaurant Week Menu, Perla offered three choices for each course taken from their regular menu at a fraction of the cost; so that was a 'win win' for us at just $38 per person.
For appetizers my wife went for the 'Chilled Pea Soup with Maine Lobster Salad' and I chose the 'Roasted Beet Salad with Pancetta Vinaigrette with Basil Pesto, Fresh Mozzarella, and Mini Croutons',
The Pea Soup was refreshing, flavorful and the addition of the lobster took the dish to another level.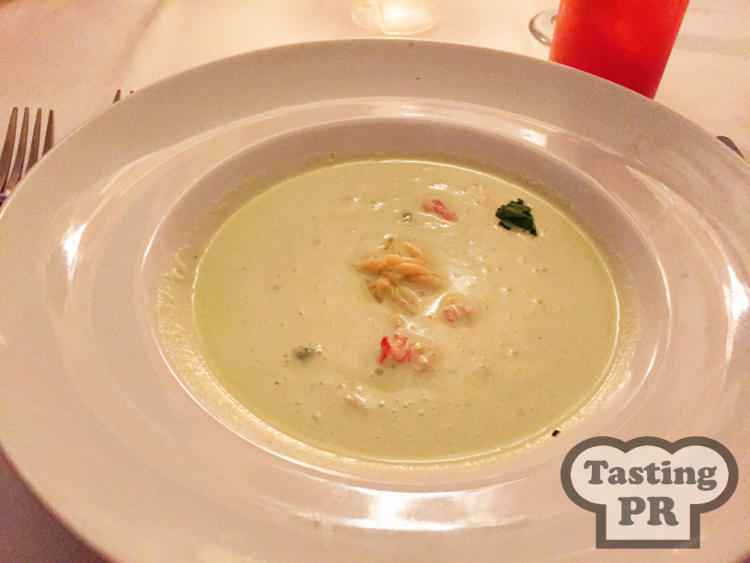 The Roasted Beet Salad was delicious. The acidity from the vinaigrette was complemented by the slight sweetness of the beets, that made for a great start to my meal.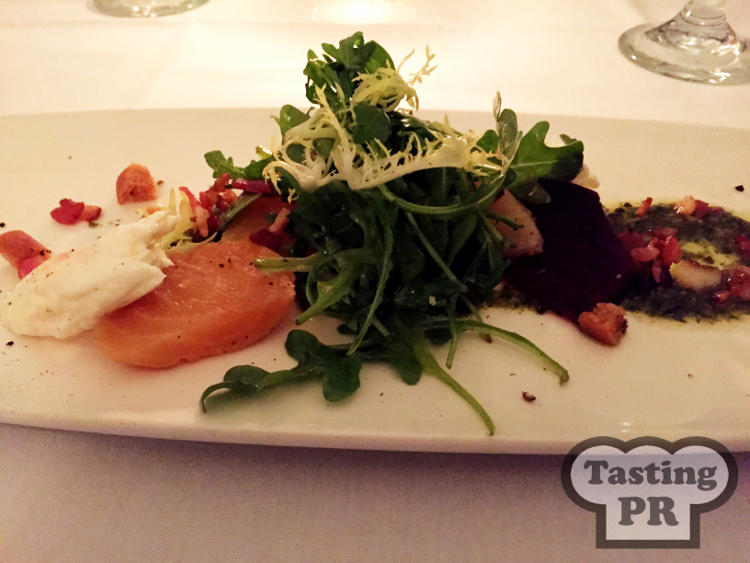 For our main dishes we both plumped for fish.
My wife ordered the 'Grilled Dorado with Cilantro, Parsley, Basil Jus, Yucca Cake and Tomato Salad' and she had one word for this plate; 'Surreal'. She was in love with this dish from the first bite. The Cilantro, Parsley, Basil Jus paired perfectly with the flakey, perfectly cooked Dorado, that had just a hint of lemon. So many flavors all combining together to make an unforgettable dish.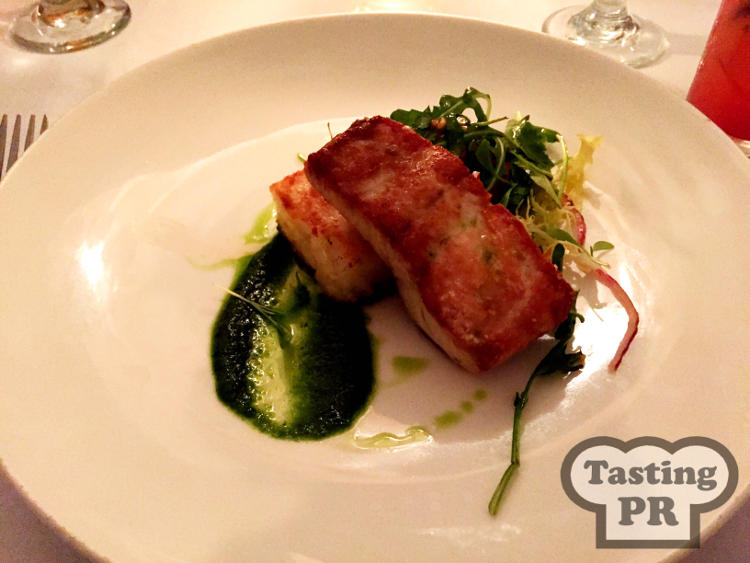 My 'Grilled Swordfish Steak with Green Papaya Slaw, Forbidden Rice and Local Root Vegetables' was another dish that was expertly executed. The swordfish was amazing, meaty and cooked to perfection. The Forbidden Rice was delicious and paired perfectly with the fish. I would definitely order this again.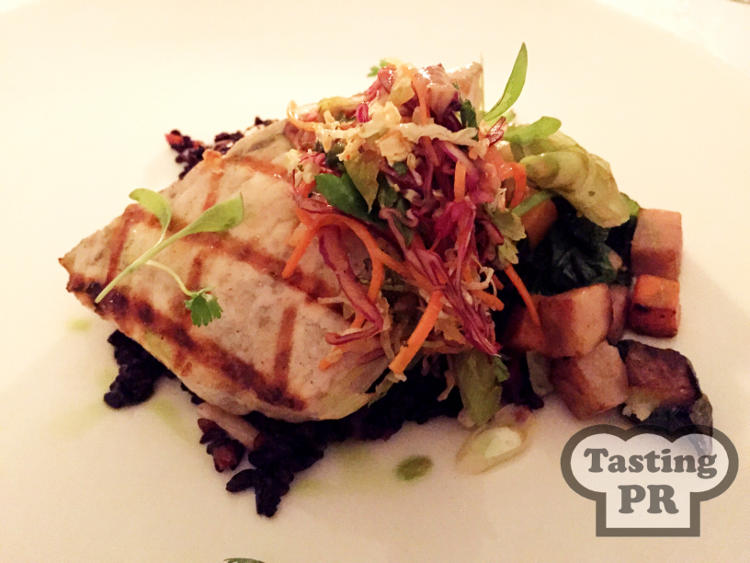 For dessert we both delved into the 'Soft Center Warm Chocolate Cake with Vanilla Chocolate Fudge Ice Cream and Hazelnut Crumbs'. The creamy vanilla ice cream, the crunch from the Hazelnuts and the moist chocolate cake made for a perfect ending to a perfect meal.
The ambiance, service and the food at Perla were exceptional and we are already planning our next visit.
More Photos of Perla Restaurant
More reviews if Perla Restaurant at Yelp & Tripadvisor
Perla Restaurant
Location: La Concha Resort, 1077 Ashford Avenue, San Juan
GPS: 18.456988, -66.074086
Parking: Yes & Valet Parking
Tel: 787-721-8500
More Info: Perla Restaurant
Find on Google Maps