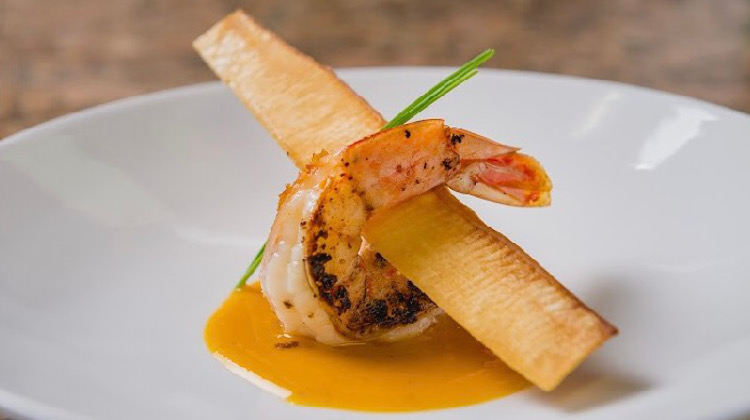 Renowned chef and owner of Pikayo, Wilo Benet, launches a tribute to Puerto Rican cuisine with his New Puerto Rican Tasting Menu, that redefines the taste of our grandmothers' food and turns it into exquisite dishes of the best contemporary gastronomy.
The redefinition of Puerto Rican food has been one of the constant characteristics in Benet's cuisine, which has fused and recreated our Creole flavors with the cuisine of different countries from around the world.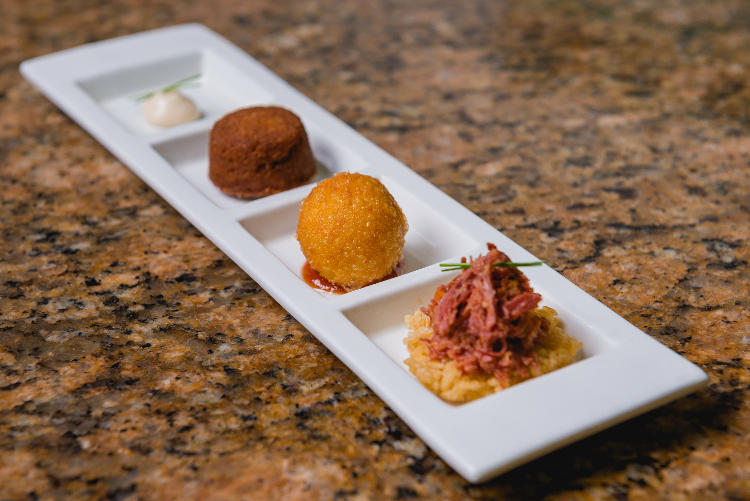 On this occasion, the Puerto Rican Food Tasting Menu offers 6 courses, from appetizers to dessert, for $ 58pp + tax, with the option of including an additional wine pairing for an additional $35 + tax
The start of this delicious tasting menu, with a plate consisting of three creative interpretations of popular appetizers from our local cuisine. The first is a Gouda Cheese Croquette served with a Guava Sauce that offers the typical contrast of our cuisine from sweet to salty. The second is a Crispy Rice Pegao topped with a Creole Style Corned Beef Stuff. The final component of the trilogy is a Petite Beef Alcapurria, accompanied by a Garlic Alioli.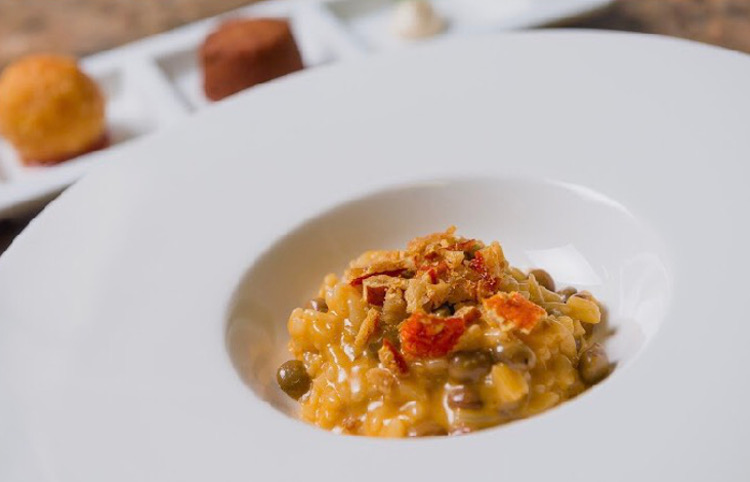 The first course the diner to a Risotto of Pigeon Peas, one of the most typical grains of Puerto Rican cuisine, complemented with Parmesan Cheese and Pork Crackling.
The second course a wild Ecuadorian shrimp, served with Yuca Chips and Mango Sauce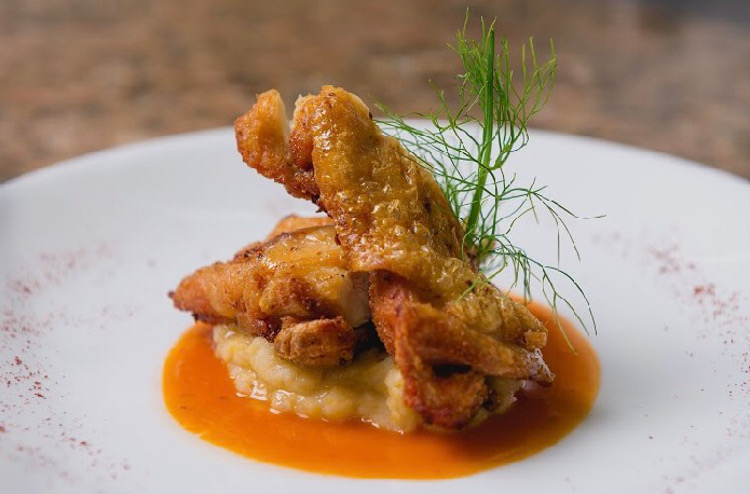 The next two courses are a direct inspiration of the cuisine of our grandmother's: Fried Chicken and Steak Encebollado, but with the magic touch that Benet gives to all their dishes.
The fried chicken is a boned and flattened chicken leg that it is tender and juicy on the inside with a perfectly crisp outside. The dish is accompanied with a Root Vegetable Puree and by a bunch of vegetables and a 'fricassé-style' Sherry Sauce.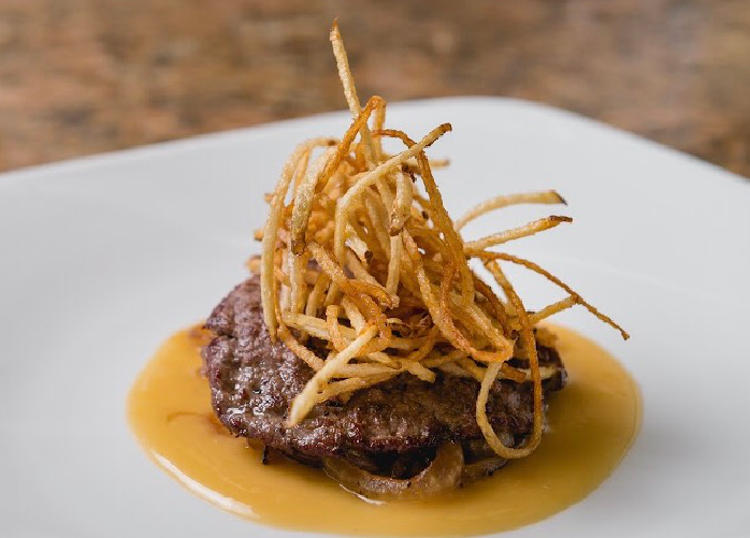 The Steak Encebollado is a Creole style Fillet Steak with a hint of vinegar and sautéed in butter and topped with Caramelized Onions and Haystack Fries
.
Finally to close this delicious tribute to our kitchen diners can indulge in a mini cheese flan, which has been recognized by the American press as a strong rival tof the famous New York Cheesecake.
* Diners can upgrade to one of Chef Benet's speciality Soufflés for an additional cost of $5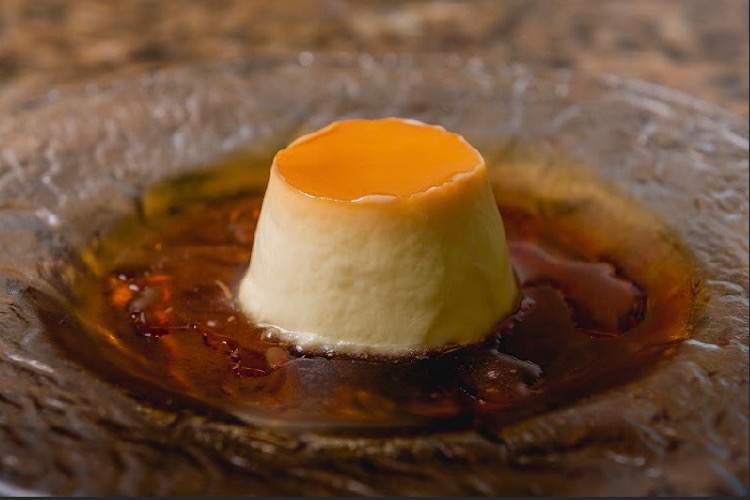 "This menu has been designed with the dual purpose of introducing visitors to our Creole food and for locals to recall and pay homage to all those typical dishes that we have enjoyed since childhood and still serve our families.
In many of these dishes I was inspired by the dishes that my grandmother made and recreated them with a more global and contemporary perspective to meet the most sophisticated tastes of the current client.
At Pikayo, we want to create a unique experience for our guests, offering them the taste of our typical food utilising the best quality ingredients, coupled with the best service. We want each person to enjoy their unique and individual experience and that is why we attend to the particular needs of our clients. " commented Benet.
Press Release
Pikayo by Chef Wilo Benet
Location: The Condado Plaza Hilton, San Juan
GPS: 18.460905, -66.081138
Hours: Mon – Thurs 6:30 – 10:30pm, Fri – Sat 6:30 – 11pm, Sun 6:30 – 10:30pm
Parking: Yes
More Info: Facebook