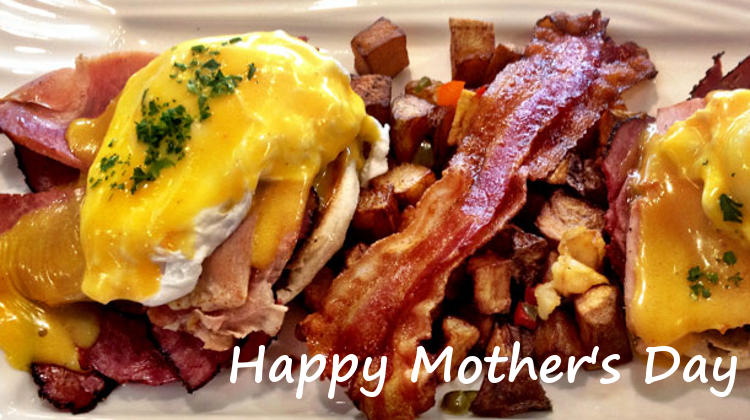 You remembered it is Mother's Day on Sunday right?
Why not take the hassle out of all the preparation and take your mom out for a special Mother's Day Brunch / Dinner, you won't even have to do the dishes; all you have to do is pick up the check.
Luckily, restaurants around Puerto Rico will be celebrating this very special day with Mother's Day inspired Brunch and Dinner menus.
Here is your guide to some of the Mother's Brunch & Dinner Specials happening around Puerto Rico:
San Juan Area
Mother's Day @ The Ritz Carlton
Lavish mom this Mother's Day and create a day designed just for her. Starting with a luxuriously hydrating manicure and pedicure at the spa, tailored to mothers and daughters of all ages. Follow this with brunch at Mares restaurant where endless Champagne and bloody marys will have her feeling on top of the world. For a more formal celebration, treat her to an all-night Cosmopolitan experience at BLT Steak.
A Very Chic Brunch Buffet @ Mares Restaurant
Experience a delicious cuisine in a family-friendly atmosphere, serving a sumptuous spread of mouthwatering dishes and a decadent dessert station. Toast to unlimited mimosas and bloody marys.
Cost is $89 Adults, $32 for children ages 4 -12 from 11am – 4pm
Cosmos and Sketches @ BLT Steak
Mom will enjoy an all-night Tito's Cosmopolitan happy hour while designer Xavier Pagán captures mom's day with a beautiful keepsake illustration. The artist one-of-a-kind personalized artwork will express the essence of Mother's Day through love and drawing. A unique and complimentary memento that will take her breath away!
Seating start at 6pm
More Info: Facebook
1919 Restaurant @ The Vanderbilt
Executive Chef Juan José Cuevas has crafted a spectacular Mother's Day Brunch with a decadent buffet with many different offerings including a raw bar, charcuterie and cheese station, salad station, and much more.
Brunch is available from 11:30am – 5pm and costs $80 per person and $35 per child under 12.
More Info: Facebook and View Menu here
Shibo
Chef Jonathan Cruz will be offering a special Asian Infused 4 Course Mother's Day Brunch from 10:30am – 3pm.
Menu dishes include:
1st Course: Parfait (lychee tapioca, green matcha yogurt, ginger cookie granola)
2nd Course: Breakfast Maki Roll (sushi rice, sweet plantain, avocado, sausage, cream cheese & lotus roots chips)
3rd Course: Bao Benedict's (Ham or Salmon) or Korean Steak & Eggs (Steak or Tuna)
4th Course: Chokoreto Waffle (chocolate waffle, coconut ice cream)
Cost is $50pp and reservations are a REQUIRED in adavance
More Info: Facebook & 939-399-3036
Palmeras @ Caribe Hilton
Palmeras Restaurant will be offering their Mother's Day Lunch from 1 – 4:30pm on Sunday May 14th. The menu offers a wide selection of cold and hot options, including antipasti, salads and more.
Cost is $45 per adult, includes one glass of sangria with a Special Pricing for Moms $22.50 (limit one per table) and $22 per child (6-12 years), children under 6 years old eat for free with paying adults.
There will be complimentary Self-parking for (1) vehicle available for up to two hours.
More Info: Facebook
Mother's Day brunch from 12:30 – 4pm @ La Vista Beach Grill
Cost is $49pp and $22 for kids (6-12)
More Info: Facebook
Zest @ San Juan Water & Beach Club Hotel
Zest would like you to create Mother's Day Memories with the Unique Flavors of Zest with their specially crafted 2 Course Mother's Day Lunch from 11am – 3pm on Sunday May 14
Cost is $40pp that includes a complimentary glass of wine and valet parking
More Info: Facebook
Il Nuovo Mercato @ The Mall of San Juan
Il Nuovo Mercato will be offering a Mother's Day Brunch and for the first time a special Mother's Day inspired 'pre fixe' a la carte menu.
The a la csrte menu will consist of:
Appetizer: carpaccio of beef fillet with arugula and reggiano parmiggiano cheese in balsamic reduction or "fritto misto" (squid, shrimp, pop fried gold) or "salad Supreme" (basket stuffed parmesan cheese baby mix green, almond, cheese gorgonzola, strawberry, raspberry vinaigrette).
First Course: Pasta penne to the "Puerto Rican" (butter, sausage, yellow) or linguine in pesto sauce with shrimp.
Main dish: Beef shanks demi glace baked in rosemary or salmon fillet veneziana (with caramelized onions and oregano)
The a la carte menu will cost $34.90pp (plus tax) and is available only by prior reservation on or before May 12
More Info: Facebook
Rio Grande Area2> Root & Bone @ Wyndham Rio Mar
Celebrate Mom with Our Grand Buffet Brunch and live entertainment @ ROOT N BONE
Sunday, May 14th, 2017 from 11am – 3:30pm
Cost is Adult $45, Seniors $40 and Kids $22 with 2rrs free parking
More Info: Facebook & 787.657.1526 or Ext 5220
The Beach Club @ St Regis Bahia Beach Resort
The Beach Club by Chef Jose Enrique @ St Regis Bahia Beach Resort will be hosting their Mother's Day Brunch from 11am – 3pm
Cost is Adults: $75 and Children: $35
More Info: Facebook
West Coast Area
The Eclipse Restaurant @ Villa Montana Beach Resort
The Eclipse Restaurant is offering their special 4 Course Pre-fixe Mother's Day Dinner menu on Friday May & Saturday May 13 and a special lunch and dinner menu on Sunday May 14.
More Info: Facebook and view menu here
TBC (Aguadilla)
TBC will be offering their Special Mother's Day Menu on Saturday May 13 and Sunday May 14
More Info: Facebook
Rincon of the Seas, Rincon
Rincon of the Seas Mother's Day Buffet will be held in the Grand Caribbean Ballroom and will offer a selection of food stations including:
Cold Station – Salads, Spanish Omelette, Smoked Salmon….
International Station – Stuffed Chicken Breast, Fish Fillet, Steak Medallions….
Puerto Rican Station – Green Pigeon Peas and Rice Soup, Roasted Pork…
Pizza & Pasta – including a live pasta station
The Buffet is open from 12 – 4pm
Cost is $39.95pp, children under 11 half price
More Info: Facebook
If you know of any other spots offering special Mother's Day brunch / dinner menus, share them in the comments below.