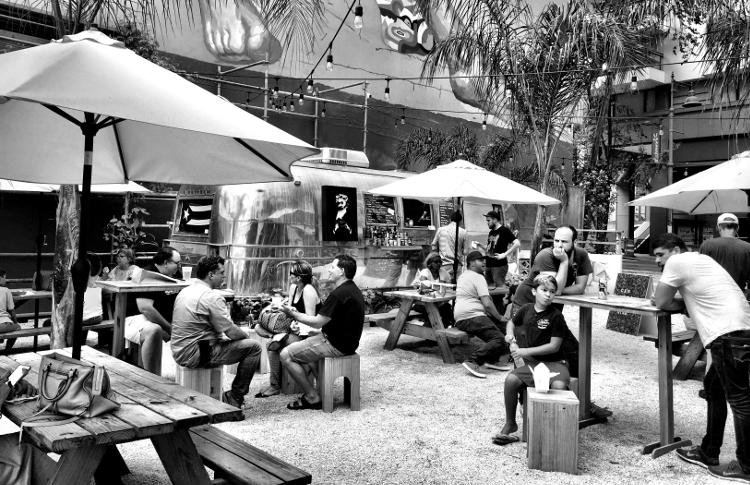 Lote 23 is a vibrant gastronomic oasis located in San Juan's art and music district known as Santurce.
Open since early December 2016, Lote 23 features 14 food kiosks and 2 Airstream trailers, each offering visitors a unique culinary experience. Once an empty lot, this outside space has been transformed into a colorful outdoor food and entertainment space that includes 4 terraces, a stage and its own parking area.
Lote 23 has plenty of shade thanks to the large table umbrellas and overhead canopies and large industrial sized fans provide a cooling breeze.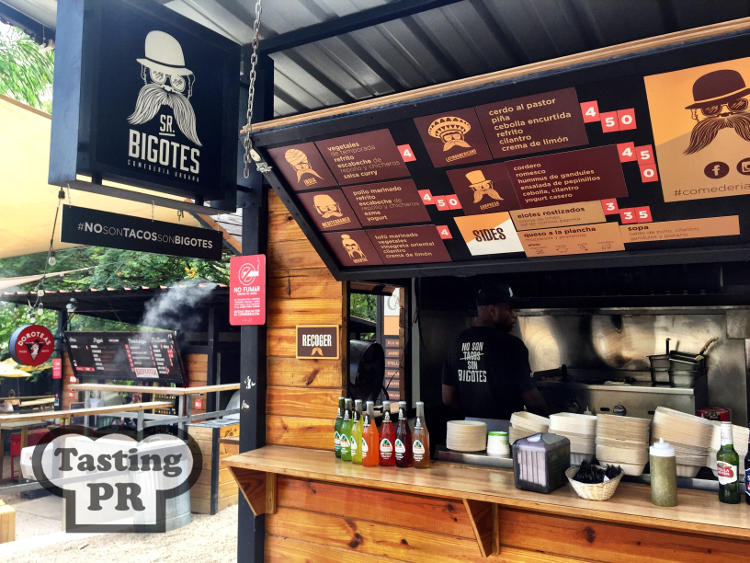 Culinary offerings from well known and upcoming Puerto Rican chefs include mouth watering fried chicken at the Hen House by Chef Pierre-Philippe Saussy, incredible Pernil (Pork) Sandwiches at Pernilería Los Proceres by Chef Mario Juan, Bao Buns with a Puerto Rican twist by Chef Paxx Caraballo and a touch of Greece with Pa'l Pita from Yareli Manning of The Meatball Company; just for starters.
One of the kiosks does not have a permanent owner and is used as a 'Pop Up' style kitchen to showcase individual chefs or concepts. To date the kiosk has been home to Monfon-Go NY by Chef Manolo Lopez and K-pop by Chefs María Grubb and Kelly Piro.
Currently at Lote 23 you will find:
Dó & Café Regina (Camille Pagán and Kali Solack)
Pairs delicious freshly made donuts with 100% Puerto Rican Coffee
Pernilería Los Prōceres (Chef Mario Juan)
Chef Mario Juan utilises fresh and local ingredients for his Pernil inspired casual menu that changes daily. They also have a decent craft beer selection.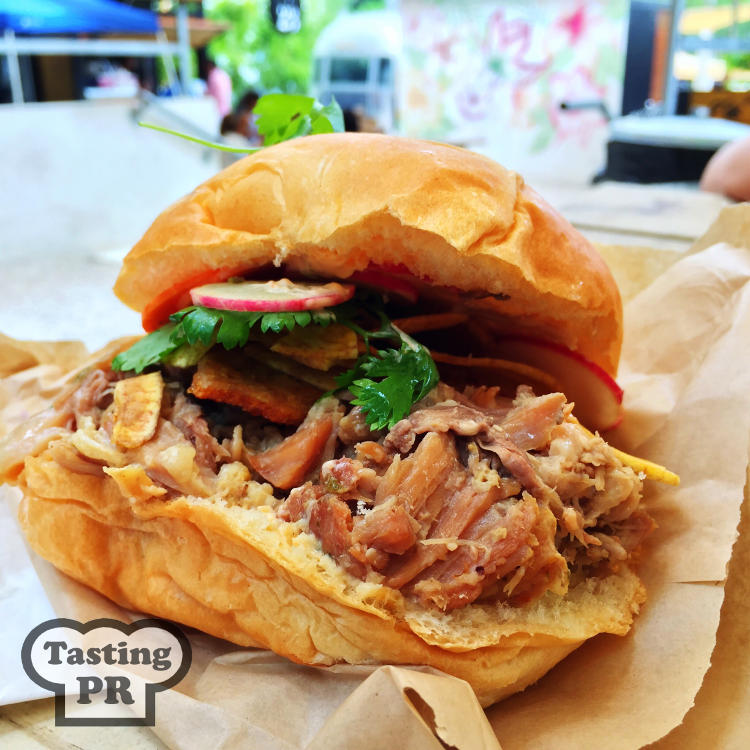 Hen House (Chef Pierre Saussy)
Chef Pierre Saussy serves up his take on Fried Chicken that is marinated in buttermilk and brine pickle, double battered and fried to perfection. Hen House typically serves up Fried Chicken Biscuit Sandwiches and Chicken Tenders.
Baoricua (Chef Paxx Caraballo)
Serves up gourmet AsianRican street food utilising fresh local ingredients. The Baoricua Bao Buns are soft steamed rolls filled with either meat, fish or vegetables are sure to hit the mark and watch out for their signature banana ketchup….
Básico Sopería (Joanne Tucci y Roy Sánchez-Vahamonde)
Soups, fresh juices and more utilizing fresh local ingredients are on the menu at Básico Sopería
Sr. Bigotes (Chef Xavi Pacheco)
Not your typical Mexican taqueria with tacos and more inspired by the cultures of India, Latin America and more. Chef Xavi Pacheco utilizes 100% locally sourced ingredients to give customers a fresh take on tacos
Dorotea's Pizza (Chef Raúl Correa)
Wood fired thin crust pizzas, hand made cocktails and more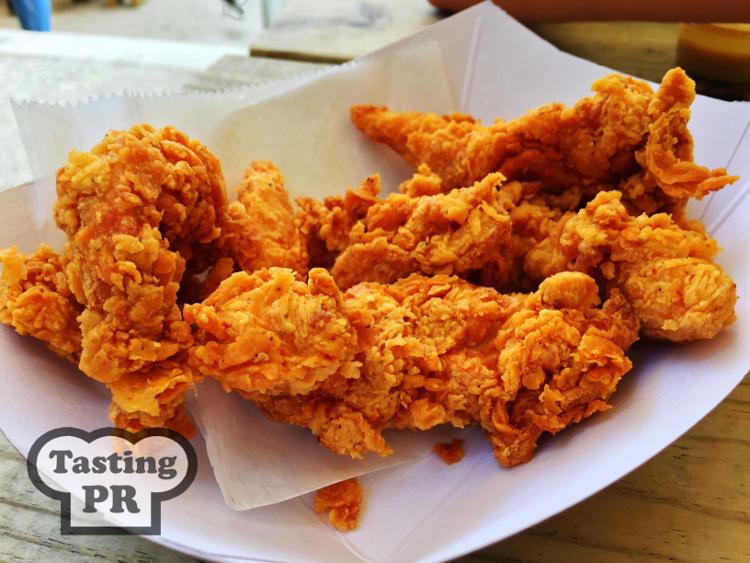 Wok It! (Chef René Marichal)
Create your own noodle or rice bowl; choose your protein, sauce and vegetables. It's as easy as that or as they say 'You make it. We Wok it"
Panka (Chef Martín Louzao)
Peruvian street food with a modern Chef Louzao twist; Ceviche, Anticuchos of beef, fish or octopus, cocktails and more.
Señor Paleta
Cool down with one of their handmade popsicles. Coconut, Strawberry and Nutella are popular options
Bayard
Belgian inspired fries, double-fried and accompanied by a selection of sauces. Try their special a version of Poutine with cheese, and pernilerīa LOS PRŌCERES gravy
El Joint Burguer (Franco Busó)
Try the PBBJ slider (beef, peanut butter, bacon marmalade and blueberry jelly) or the Spam me baby (beef, fried egg, spam, caramelized onions, spicy mayo, chedder) are just two of the creative or is that crazy sliders on offer here
Pa'l Pita (Yareli Manning)
Start with some hummus or falfael and follow it up with a pita (made fresh daily) filled with your choice of lamb, pork or chicken
La Alcapurria Quemá
For a snack try one of their signature Alcapurrias stuffed with beef, codfish, corned beef or veg, Pastelillos "rellenas" style (these they are opened up like a little taco and filled with your choice of filling) and Pasteles made with yuca or masa that are not filled but topped "montadito style". For a heartier dish try the "Fiambrera" which uses an arroz mamposteao or root vegetable puree as a base and is then topped with either carne frita, chicken chicharrones, fish fritters, corned beef or serentada de Bacalao and served with Tostones.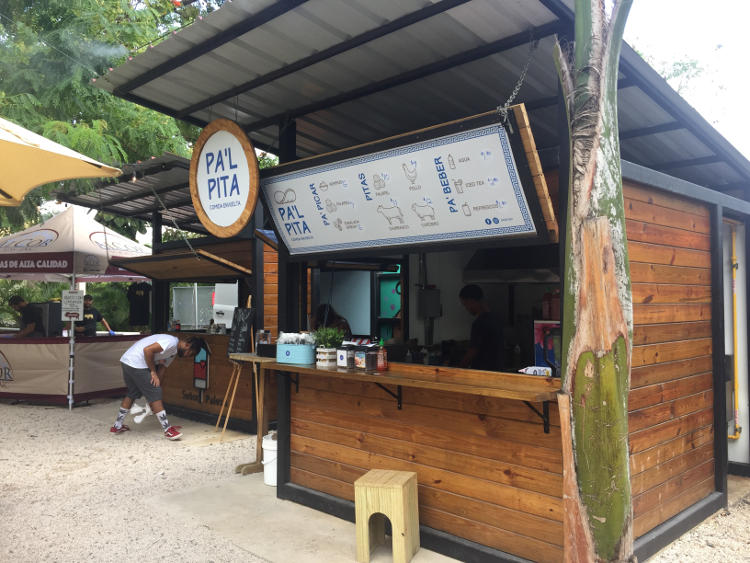 Caneca Cocteleria Movil
(Leslie Cofresí y Roberto Berdecía)
A mobile cocktail house, housed in an old Airstream trailer serves cocktails of the highest quality using fresh local juices and top shelf liquors.
During the week at Lote 23 along with all the food offerings you can also catch; a yoga session, local musicians and even movies. To find out the latest happenings, upcoming events and 'Pop ups' checkout Lote 23 on Facebook
Lote 23 (Gastronomic Food Park)
Location: 1552 Ave. Ponce de León (Parada 23), Santurce, San Juan
GPS: 18.444964, -66.067204
Hours: Tues, Weds, Sun 11am – 10pm, Thur, Fri Sat 11am – Midnight
Parking: Yes
More Info: Facebook