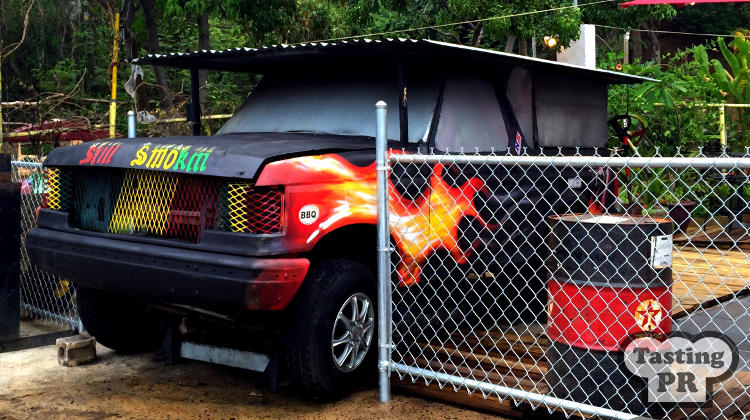 When you see a Ford Bronco converted into a whole pig roaster, you know there are some serious BBQ chops going on. That's exactly what you will find at La Estacion in Fajardo.
This past weekend we were staying close by in Rio Grande with my sister, who was visiting from England and decided to check out La Estacion.
Located close to the El Conquistador Resort, La Estacion has been transformed from a former gas station by current owner Chef Kevin Roth and is now cranking out some great tasting BBQ and seafood dishes.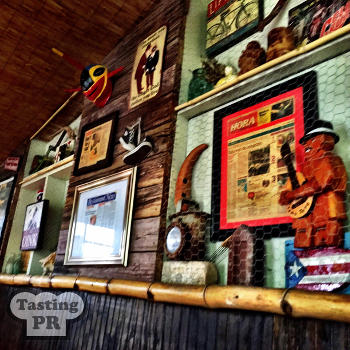 We arrived early on Saturday evening, in fact so early the place was not open (their website and facebook pages need updating), so we went for a quick tour of Fajardo and returned at 5pm to find Chef Kevin Roth hovering out the Bronco for Sunday's pig roast..
La Estacion offers covered outdoor seating as well as several tables inside the old gas station building. As the weather was a little unpredictable we opted for the inside seating with its eclectic array of wall art with an emphasis on BBQ and pigs.
The staff are super friendly and eager to point out that La Estacion uses fresh local sourced produce, including locally caught seafood.
The regular menu is relative small and is enhanced by daily specials.
Regular appetizers include; Mixed Baby Green Salad, Green Papaya Salad, Nathans 'New Yorican' Hot, Dog and Pinchos (chicken, pork or shrimp)
Entrees include Mofongo (with Chicken, Skirt Steak or Mahi Mahi & Shrimp), Skirt Steak, Ribs, BBQ Combo, New York Strip. All the meats are marinated with sofrito, special house BBQ rub and cooked over charcoal.
Daily specials vary depending what is fresh on the day.
We started with drinks, Medalla for me and a regular Mojito for my sister.
For appetizers we went with two of the specials; the Shark Pinchos and the Bacalaito's.
The Shark was accompanied by grilled corn and arugula. The lightly charred succulent shark with its meaty texture was accompanied by grilled corn and arugula; it made for a perfect start to the meal.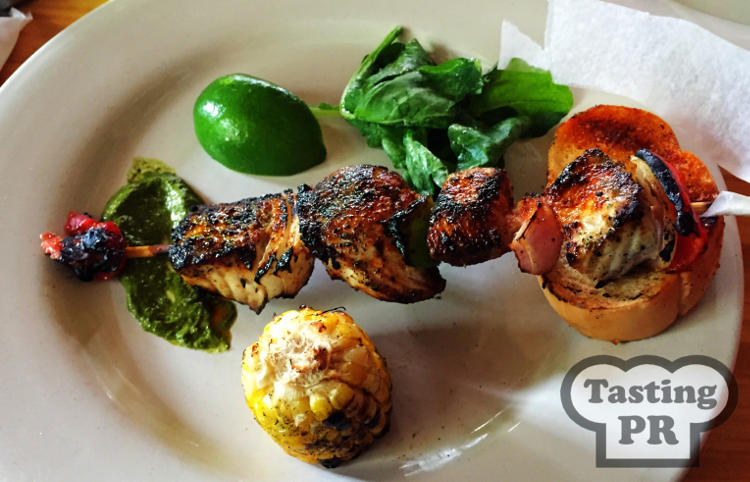 The Bacalaito's plate arrived with so much color. 3 crispy bacalaitos served with a salad and pickled red onions, so tasty. The bacalaitos were crispy on the outside with a soft inner; just as I like them.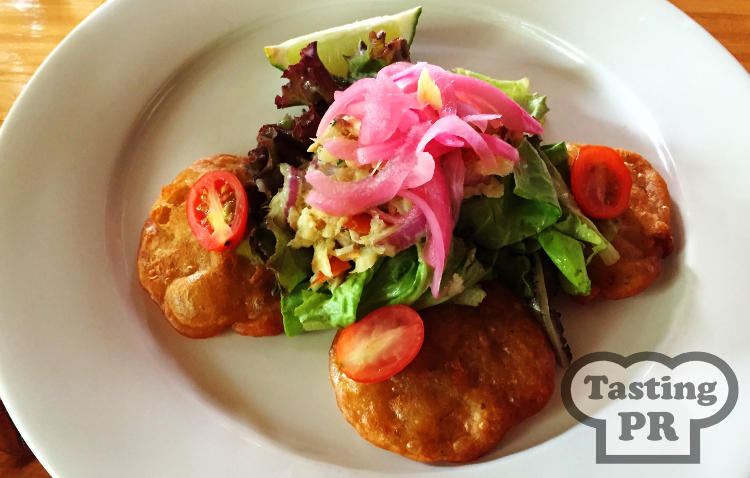 For our main dishes my sister ordered the Skirt Steak and I choose the Mahi Mahi & Shrimp Mofongo.
The Skirt Steak was served with marinated green banana salad that unfortunately my sister did not care for. Our waiter realized the salad was not a hit and immediately asked if we would like to change it for another side. So with a mixed green salad my sister went on to enjoy her meal completely. The steak was cooked as requested, tender and full of flavor. A hit. (unfortunately the photo did not do this dish justice)
Now normally I tend to not order Mofongo dishes but something inside me said go for it and I was not disappointed. Just looking at the Mofongo brought a smile to my face. Served in a traditional pilon, the dish looked amazing and was packed to overflowing with Mahi Mahi and Shrimp.
The Mofongo was soft, moist with a depth that was complemented by the moist Mahi Mahi and Shrimp and the ridiculously tasty white wine and garlic sauce. By far the winner of the night for me and one of the best Mofongo's I hace tried here in Puerto Rico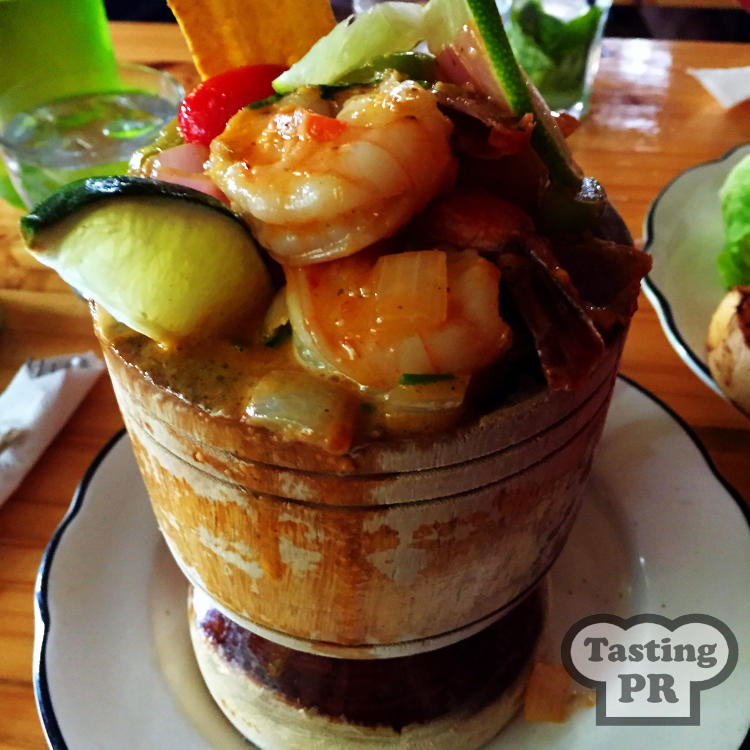 Other specials included whole grilled Red Snapper and Lobster; both served with your choice of sides.
We ended the meal with a couple of excellent lattes.
La Estacion has a really cool vibe, friendly staff, great looking food and above all, great tasting food.
if you are in the Fajardo area or in fact, even if you are in San Juan go; check this place out.
Now back to that Ford Bronco. Most Sundays Chef Roth cranks out a whole roasted pig and more from the back of the converted Bronco, so you guessed it, my return visit will be on a Sunday.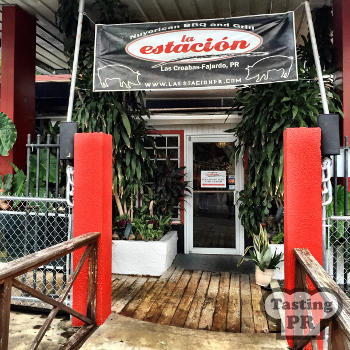 More photos of La Estacion
More reviews of La Estacion on Yelp, Tripadvisor & Foursquare
La Estacion
Location: Carr. 987 km. 4, Las Croabas, Fajardo
GPS: 18.359965, -65.637956
Parking: Yes
Hours: Thursday to Monday Opens at 5pm (closed Tues & Weds) – call for latest opening times
Tel: 787-863-4481
More Info: Facebook
Find on Google Maps