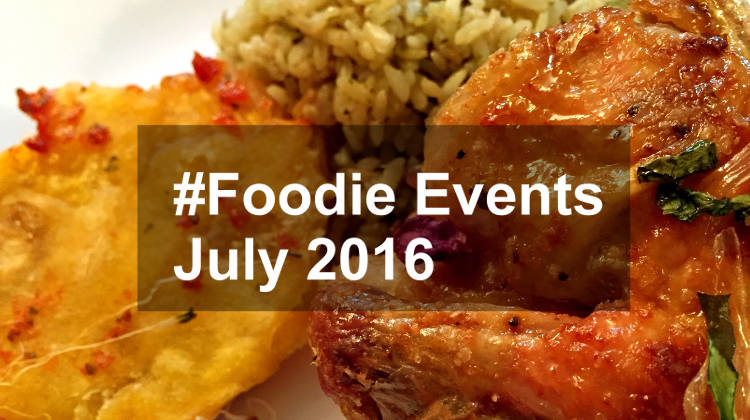 Summer is in full swing and so are the #foodie events in Puerto Rico, including the the return of the UPR Summer Food Truck Fest and the Camuy Mondongazo Festival. All these and more happening in July.

2nd UPR Food Truck Summer Fest, Rio Piedras
The University of Puerto Rico Botanical Gardens in Rio Piedras will host the 2nd annual UPR Food Truck Summer Fest featuring around 18 popular food trucks from all over Puerto Rico. Along with the great food there will be live music, an agricultural market and more.
More Info: UPR Food Truck Summer Fest

Festival del Mojo Isleno, Salinas
Paso Ladis in Salinas will host the annual Festival del Mojo Isleno. This family event features recipes made with the island mojo sauce made famous in Salinas. There will also be live music, artisans more.
More Info: 787-824-4071

Mondongazo de Camuy
The town of Camuy will be hosting its annual Mondongazo Festival. What's Modongo? It's Puerto Rico's version of TRIPE stew and there will be around 1250 pounds available to consume at the festival. So if you are feeling brave; head to Calle San Juan / Corner of Turiano Rivera de la Comunidad Calle Abajo in Camuy and enjoy the celebrations.
More Info: Facebook
More Foodie Events in July

Lajas Valley Agricultural Fair
The Agricultural Fair at the Western Hay Farm in Lajas will feature farm and exotic animals, birds, agricultural equipment and more.
More Info: 787-899-1355

1st Edition of Sabor en la Bahía, Gauyama
Paseo Tablado Punta Pozuelo in Guayama.will host the 1st Edition of Sabor en la Bahía featuring local chefs and restaurants

La Taberna Fest 2016, San Juan
The Puerto Rico Convention Center in San Juan will host the La Taberna Fest 2016 featuring 30+ restaurants and bars. The action starts at 6pm
More Info: Ticket Center

Día Nacional del Helado, San Juan
Celebrate Día Nacional del Helado (National Ice Cream Day) with an icream or two at Parque Luis Muñoz Marín in San Juan starting at 11am
For information about upcoming #foodie events in July and the rest of the year check out our #foodie calendar and our Facebook Page
Note: events listed here are given in good faith based on information obtained from various local online and print media outlets. TastingPuertoRico.com cannot be held responsible for any changes to event details. Please contact the event organizers for the latest information on a particular #foodie event.