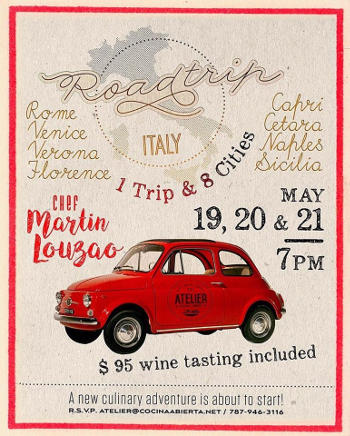 Who's up for a roadtrip?
Chef Martin Louzao of Cocina Abierta will take you on a tour of 8 Italian Cities during an 8 course dinner and wine pairing popup event at Atelier, Cocina Abierta on May 19. 20. 21
During the evening Chef Louzao will take you through the cities of Rome, Venice, Verona, Florence, Capri, Cetara, Naples and Florence creating dishes inspired by each city. Wine pairings will be chosen by sommelier of the house Arthur Fields, to highlight the taste of the experience.
During the preparation of each course there will be a visual tour of the cities setting the mood for the evening's gastronomic pleasure.
The 8 course dinner and wine pairing costs $95pp. Spaces are limited so make your reservation by calling 787-946-3116
Italian Road Trip Menu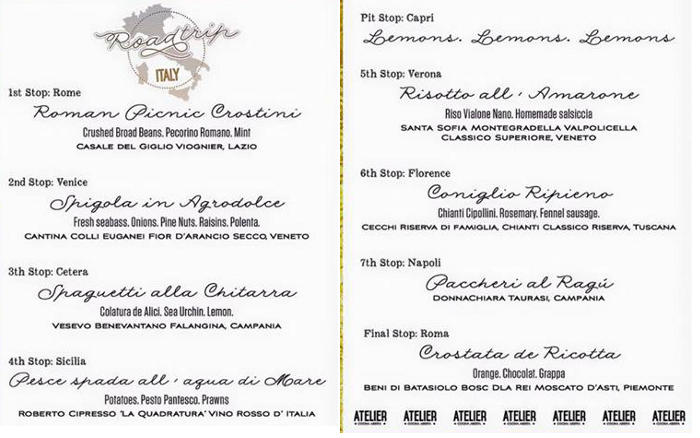 Italian Road Trip with Chef Martin Louzao
When: 7pm May 19, 20, 21, 2016
Where: Atelier @ Cocina Abierta, Calle Caribe #58, Condado, San Juan
Cost: $95pp (with wine pairing)
GPS: 18.455053, -66.070592
Parking: Street & Valet Parking
More Info: Facebook & 787-946-3116