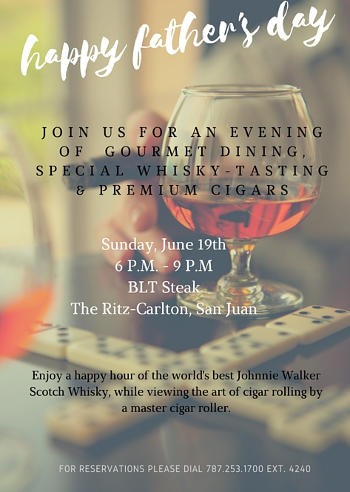 BLT Steak @ The Ritz-Carlton, San Juan are inviting all fathers to join them for an evening of gourmet dining, special whisky tasting and premium cigars.
The special Father's Day evening runs from 6-9pm on June 19th and guests will be able to enjoy BLT's regular menu and blackboard specials highlighting the seasonal flavors and local ingredients.
Menu items include:
Appetizers
Oysters on the Half Shell
Local Snapper Ceviche
Crab Cake / Chipotle Aioli / Radish Salad
Tuna Tartare / Avocado / Soy – Lime Dressing
Steak Cuts
Bone In Strip Sirloin 22 oz
Filet Mignon
Hanger Steak 10oz
New York Strip 16oz
Porterhouse (for two) 40 oz
Rib Eye 22 oz
Other Dishes
Braised Short RibsLemon Rosemary Chicken
Grilled Lamb Chops / Orange Chimichurri / Rosemary
Grilled Tuna
Grilled Jumbo Shrimp / Cilantro & Confit Lemon
Pan Seared Snapper / Sweet Pea Guacamole / Cilantro Vinaigrette
Grilled Swordfish / Alcor Chorizo / Piperade Sauce / Cilantro
There will be an 'all night' whisky happy hour and from 7-9pm diners will be able to watch the art of cigar rolling from a master cigar roller.
Father's Day @ BLT Steak
When: June 19, 6-9pm
Location: The Ritz-Carlton, San Juan, 6961 Ave Gobernadores, Carolina
GPS: 18.442593, -66.013455
Parking: Valet and self parking
More Info: Website