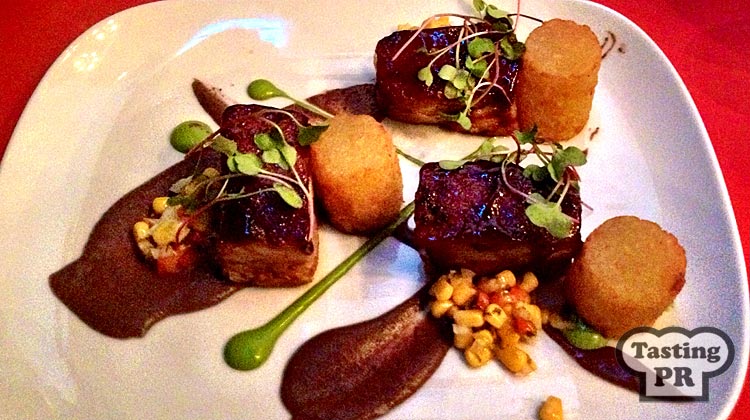 Having read great reviews of En Boga Restaurante & Gastrobar, it was a no brainer when my wife asked me to choose a restaurant to celebrate my birthday. To be honest I had wanted to check out Chef Pedro Torres restaurant for a while, so this was the perfect opportunity, and I am so glad we did.
En Boga Restaurante, has a cool & sophisticated vibe, with pattern textured walls, contemporary photos and a strange spiral metal staircase that leads to nowhere…. Definitely need to return to find out the story behind the staircase and to try more of Chef Torres' creations.
We were seated in the area to the front of the restaurant that is actually walled off from the main dining area, which made our meal that bit more intimate.
I already knew which appetizer I wanted to try, so after checking out all the great options we went with the Empanaditas de Conejo con Alioli de Chipotle (mini Rabbit Empanadas with Chipotle Alioli) and the Anticuchos de Pulpo con Chimichurri de Albahaca (Octopus Skewers with Basil Chimichurri).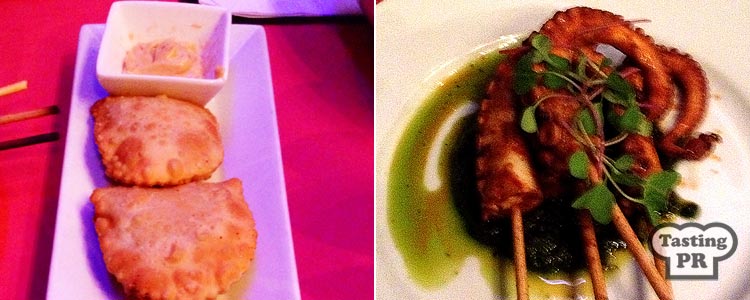 It has been a while since I had had rabbit, so I was really excited to see the empanaditas on the menu. The empanaditas had a unique subtle gamey flavor, quite unlike any other empandillas that I have tried. Simply, delicious. My wife tried one, but unfortunately could not get passed the little bunny images that raced through her head. So that meant, all the more for me…
Now, I'm not a big fan of Octopus, but if every plate could be as good as this one, I would definitely become a one. The presentation, texture and flavor of this dish were superb. The octopus was so tender and it paired so well with the Chimichurri , we almost ordered an extra portion.
For our main course my wife orderd the half portion of Filete de Dorado con Crust de Chicharrón, Risotto de Gandules and I went with the Pork Belly Glaseado con Guayaba y Especia s con Yuca Hash y Puré de Frijoles Negros (GlazedPork Belly with Yuca Hash and Black Beans Puree).
The Mahi Mahi was perfectly cooked, flaky and flavorful and the accompanying risotto was creamy and packed full of flavor. Even though this was a half portion, the portion size was just right.
Now the Pork Belly, this is a dish a love to try and one that seems to be appearing on menus more and more. Chef Torres take on this pork cut, did not disappoint.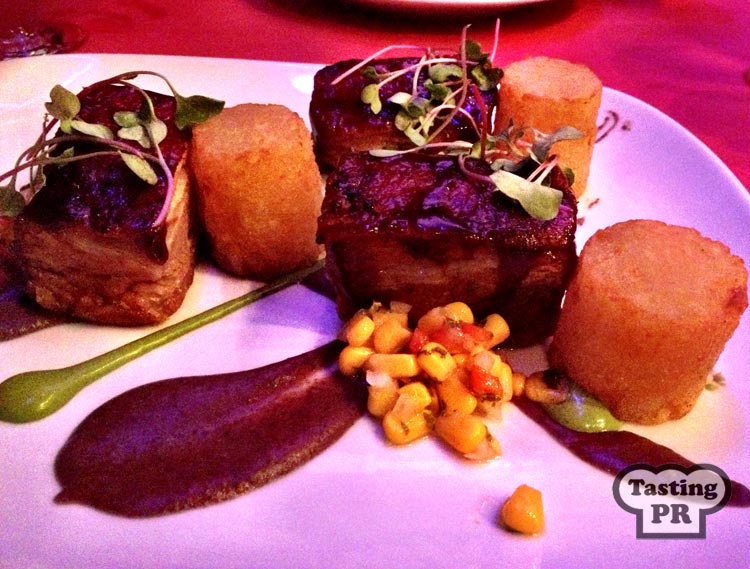 As the dish arrived the intense aroma gave me flash backs to Guavate, and I knew I had ordered the right dish. Unlike Guavate, which is not known for its food presentation, this Pork Belly plate was creatively presented with black bean puree and yucca hash.
The Pork Belly had a perfectly crispy skin, with moist, tender and delicious pork. The pork belly just melted in my mouth. Again, this was another superb dish.
For dessert, yes we still had a little room and remember it was my birthday, we order the half portions of "Barriguitas de Vieja" con Dulce de Leche (Old Lady's Clothes) and the Budín de Mallorca (Mallorca Bread Pudding).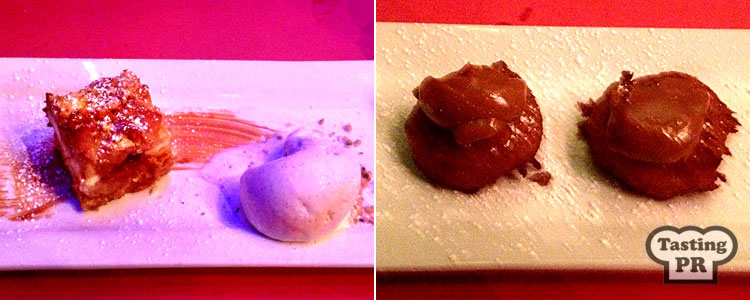 Both desserts were okay, We both agreed that the The Barriguitas de Vieja with the Dulce con Leche was the better dessert and found that the bread pudding was a little too plain.
We had a great time and it was a perfect birthday meal.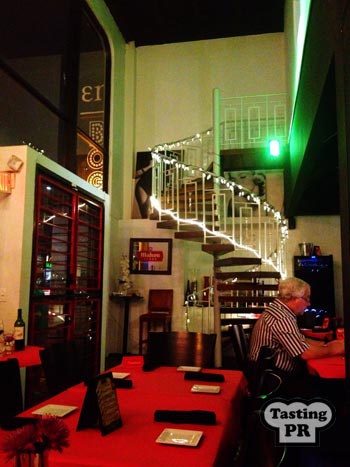 En Boga Restaurante &Gastrobar is a perfect spot for a romantic night out, with great food and creative combinations of ingredients. The menu changes regularly, so there will always be something new to try.
More photos here
More reviews: Tripadvisor, Yelp, Foursquare
En Boga Restaurante & Gastrobar
Location: 308 Ave. Diego, San Juan
GPS: 18.415201, -66.089358
Parking: Yes (Valet and Street Parking)
Tel: 787-967-2244
Website: Facebook
Find on Google Maps