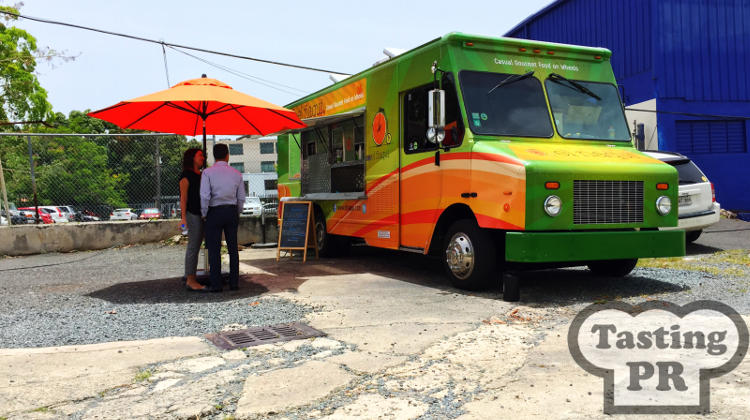 El Naqui describe themselves as 'Casual Gourmet Food on Wheels' and that's exactly what you get at this popular food truck in Guaynabo.
Chef Jose E. Bengoa and his team crank out delicious high quality dishes on a daily basis at their truck spot close to Metro Office Park, (opposite the Puma Gas Station and Horreo V. Suarez).
Daily dishes include their signature Naqui Bun made from a slightly sweet Saboa bread filled with either Pulled Pork, Korean Style Chicken or Churrasco served with or without El Naquis special fries.
The daily menu also includes: Ribs, Wings, and Salads and there are always daily / weekly specials that are definitely worth checking out.
Keep an eye on their Facebook page for up to date information on current specials and more. This is exactly what I did a few weeks back and really enjoyed my lunch so much, I went back for seconds a few days later…
Ropa Vieja with Black Bean Mamposteo Rice. I love Ropa Vieja and El Naqui's take on the dish was delicious. The chuck steak topped with red and yellow peppers, was tender and oozing with flavor and combined perfectly with the black bean mamposteo. Overall this was a great dish.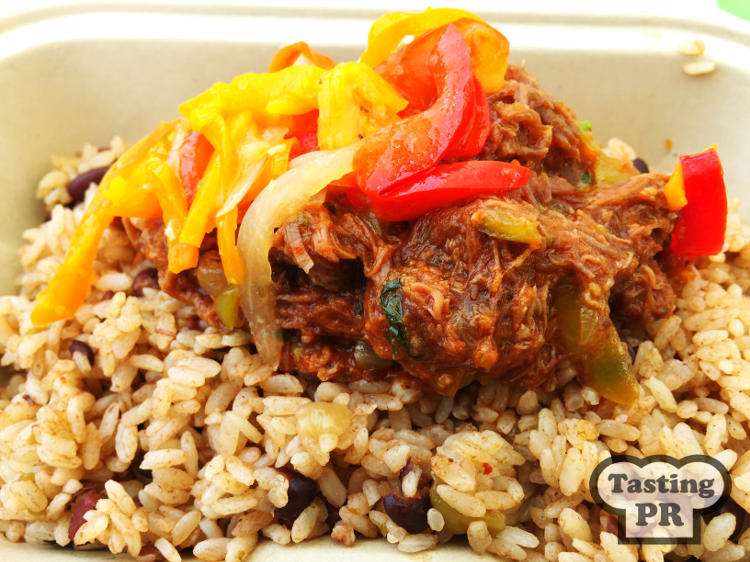 On my return visit I enjoyed the Naqui de Cerdo. Pulled pork, topped with pickled onions, cilantro, potato sticks and a special mayoketchup sauce, all sitting peaceful (until you take a bite) on the soft sweet saboa bun. It's like an explosion of flavors and textures when you bite into it.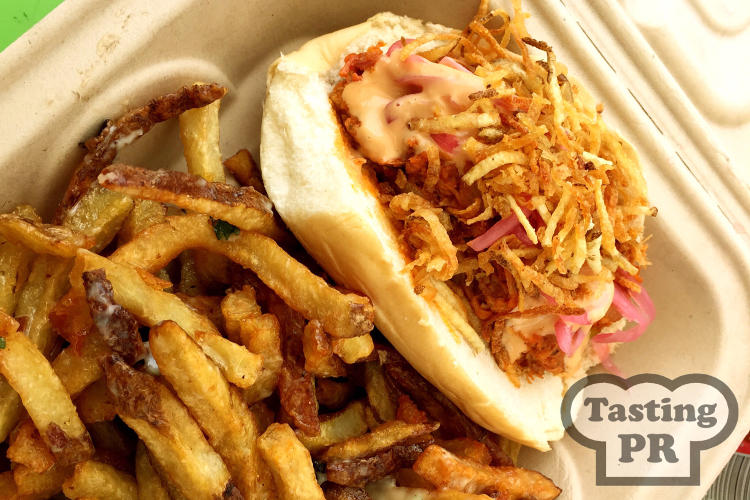 You can order a naqui on its own or like me in combo with El Naqui's fries coated with a delicious aioli and fresh herbs.
The food at El Naqui was excellent, the staff are super friendly and if you are looking for something a little bit different than the norm; El Naqui fits the bill.

There is a decent amount of seating, but El Naqui does get busy, so place your order and grab a seat and wait to be called when your food is ready..
Their regular hours are Monday – Friday 11am – 3pm with a double dose (as they call it) on Friday evenings, when you will find them located in the parking lot of La Hacienda Meat Center in Altamira, Guaynabo.
For the latest information on specials and more check out El Naqui's Facebook Page.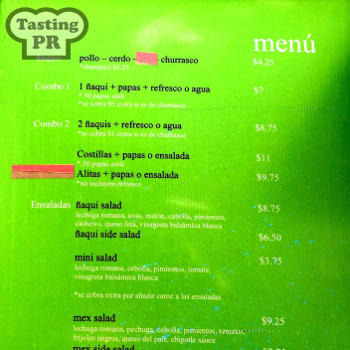 More photos of El Naqui
More reviews of El Naqui at Yelp & Foursquare
El Naqui
Location: Opposite The Puma Gas Station and Horreo V. Suarez (before Metro Office Park), Guaynabo (Friday Evenings: Parking lot of La Hacienda Meat Center in Altamira, Guaynabo)
Hours: Mon – Fri 11am – 3pm (Fri evening 8:30pm to late in Altamira)
GPS: 18.413458, -66.105324 (Fri Evenings: 18.393957, -66.104856)
Parking: Yes
Tel: 787-407-3737
More Info: Facebook
Find on Google Maps