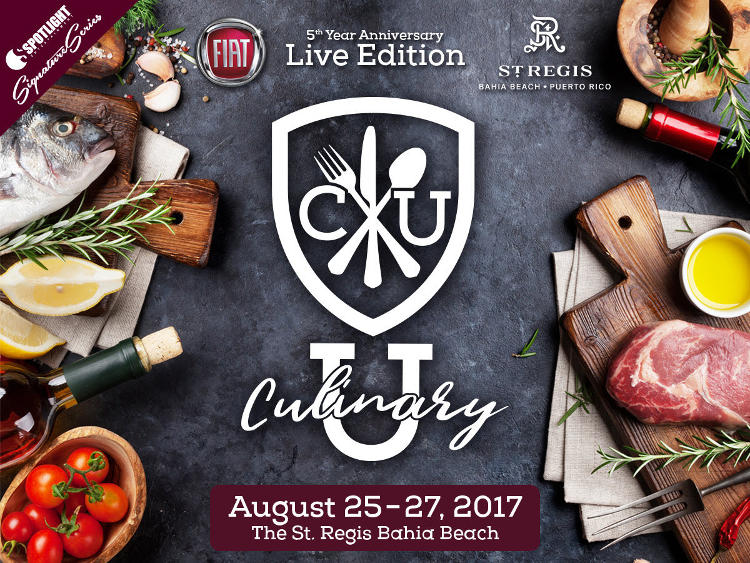 The fifth edition of Culinary U will be held at St. Regis Bahia Beach on August 25-27 with the main event taking place on Saturday August 26.
As with every Culinary U event there will be a wine pairing class with the official Sommelier of the Culinary U Maytte Rivera.
The Schedule includes:
Friday August 25:
Mixology event for participants staying at the St. Regis Bahia Beach, that will include a "hands on" mixology class for the first 25 people who arrive at Plantation House.
Saturday August 26:
Culinary Classes & Participating Chefs (choose 6):
Italian Cuisine (Alessandro Brandi)
Fish Cookery (Juan Jose Cuevas -1919) -NEW
Asian Fusion (Jeremie Cruz)
Ceviche Class (Efraín Cruz) * Hands on
The Perfect Steak-NEW (Javier Nassar)
Velouté Class -NEW (David Chaymol) * Hands on
Gourmet Cuisine (Juan Peña)
Molecular Cuisine (Steven Mcqueeny) * Hands on
Grill Masters (Rene Marichal)
Ariel Rodriguez- (Ariel Rest) NEW
Pastries Class (Anibal Rodriguez) * Hands on
Tastings:
Make your own cheese & Wine Tasting (by Rosa Avalo & Maytte Rivera) * Hands on
Whiskey Tasting
Mixology Class * Hands on
Craft Beers by Ocean Lab
Sunday August 27:
For the first time we will have a "brunch class" by Chef Juan Peña and Chef Ariel Rodriguez. This class has an additional cost of $ 60 + taxes.
Culinary U cost is $150pp + tax before August 10, 2017. Regular cost is $175pp + tax
The St. Regis Bahia Beach is also offering a special room rates:
$279 for one night stay (ONLY 20 ROOMS WITH THIS RATE, THE HOTEL IS FULL OF THE CU WEEKEND)
$ 249 for two or more nights stays
Culinary 5th Edition
When: August 25-27, 2017
Location: St Regis bahia Beach Resort
GPS: 18.412047, -65.820129
More Info: Culinary U