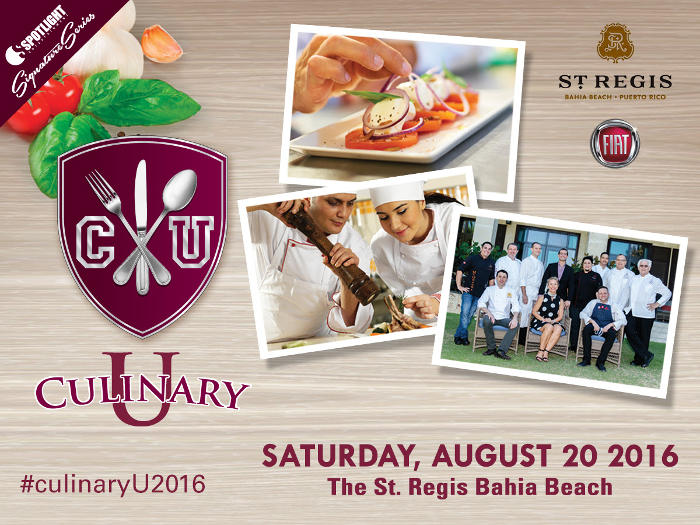 The Culinary U is an immersive culinary experience brought to you by some of the best chefs in Puerto Rico. As your teachers these chefs will provide all types of culinary classes: Italian, French, Asian Fusion, Tartare, Tapas, Molecular, Pastries, Cochinillo, Wine & Cheese, Ceviche, Gourmet Cuisine, Grill Masters and much more!
This years Culinary U 2016 will be held at the St. Regis Bahia Beach on August 20th starting at 12pm.

As part of the Culinary U experience, each student will receive the Culinary U Recipe Book; an intrinsic part of the process that contains detailed information on all of our chefs' creations.
This year you can choose 6 classes from:
Italian Cuisine
French Cuisine
Asian Fusion
Ceviche Class
Cochinillo (Pig)
Farm To Table
Tartare Class
Gourmet Cuisine
Molecular Cuisine
Grill Masters
Tapas de Chocolate
Pastries Class
Craft Beers & Tapas
In addition you can also choose a tasting from:
Making Cheese & Wine Tasting (by Rosa Rivera Avalo & Maytte)
The House of Dewars (Whisky tasting by Brand Ambassador Carlos Garcia)
Vive Le Vodka Martini by Grey Goose
The cost is $150pp + tax and spaces are limited
The St Regis is also offering a special nightly rate of $289 per night + tax for participants who would like to stay 19-21 August
More Info: Website & 787-316-5506