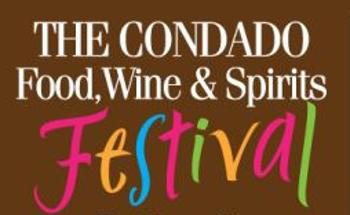 Sunday November 15, from 2:00 to 6:00 pm, all roads lead to the Condado Food, Wine & Spirits Festival at the San Juan Marriott Resort & Stellaris Casino.
About 15 Condado area restaurants, plus renowned chefs and restaurants from around the island will seduce your palate with special event dishes that will be accompanied by wine, beer and premium beverages.
Participating restaurants include: : Agarrate Catalina Bodegon Argentino, Antonio's Restaurant, Casa Lola, Chili's, Choco Bar at Casa Cortés, Chocolate Cortés, DiParma Trattoria, Gelato & Co., Il Mulino, Indulge Chocolat, Fogo de Chão, Freshmart, La Vista Latin Grill, le macarons, Lola Eclectic Cuisine, Perla, Piñeiro's Latin Cuisine, Royal Isabela Restaurant, Sabe a Gloria, Serafina, Tras-Patio Bistro y Yantar.
Wines, beers and spirits from Chivas, DonQ Flavors, Fiji, Grey Goose, Heineken, Johnny Walker Black Label, Justin Wines, Ketel One Vodka, La Cava de Serralles, La Bodega de Mendez, El horreo V. Suarez, Wines of Mallorca and Coca Cola will be on hand to accompany the food creations.
Along with the great food, wine and spirits there will be live music from keyboardist Laredo Junior, considered among the most recognized hombreorquesta of Puerto Rico and the music of Music Factory.
The Condado Food, Wine & Spirits Festival will benefit the New Iglesia Stella Maris in the Condado community.
Tickets for the event are $ 56 per person (service charges and tax service charges not included), and are available at Ticket Center, (787) 792-5000
Condado Food, Wine & Spirits Festival
Location: San Juan Marriott Resort & Stellaris Casino
GPS: 18.455726, -66.070610
When: Sunday November 15, 2 – 6pm
Parking: Yes
More Info: San Juan Marriott and TicketCenterPR