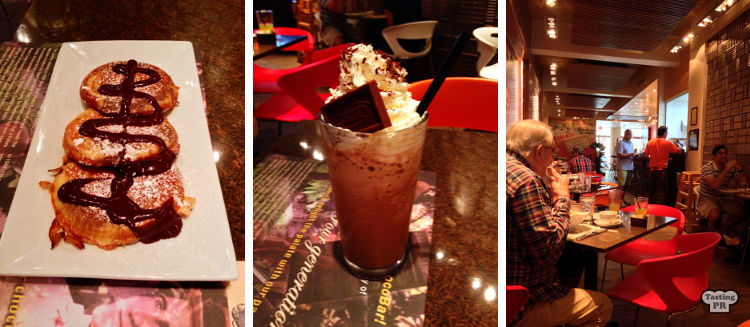 Any menu that includes a Tripleta Sandwich with Chocolate, a ChocoClub Sandwich, Grilled Cheese and Chocolate, not to mention Chocolate Martinis has to be adventurous; right?
Well those are just some of the menu items available at Casa Cortés Chocobar in Old San Juan,
My first visit a few months ago was a bit of a let down. I had a great Gustos coffee but the Chocolate Croissant, just left me disappointment. It was too crunchy, as if it had been over baked.
But I'm happy to say that my second visit was a HUGE success…
My son loves chocolate and on a recent day off from school we headed to Old San Juan for breakfast at Casa Cortés Chocobar.The restaurant is bright and colorful with large prints depicting the history of Caa Cortés Chocolate and one whole wall covered in chocolate bar molds, which my son was thought was super cool.
We arrived early and were promptly greeted and shown to our table. The breakfast menu is not overly large but has some adventurous food combinations that invariably include chocolate (though there are choices available that skip the chocolate).
My son ordered the Choco Frio Chocolate and Chocolate & Vanilla Marbled Pancakes (plain). Typically this also is served with fruits and strawberry marmalade, but we skipped that part. I ordered a coffee and a Mallorca with ham and cheese.
The Choco Frio was a huge hit with my son, whose eyes opened wide when it arrived at our table. The shake was not overly thick and tasted heavenly. Of course I gave it a try…
The pancakes arrived at the table with a choice of syrup or chocolate sauce and as you can see my son plumped for EXTRA chocolate sauce. The pancakes were light and fluffy and had a nice combination of chocolate and vanilla flavor. Together with the Choco Frio my son had an overdose of chocolate (in a good way).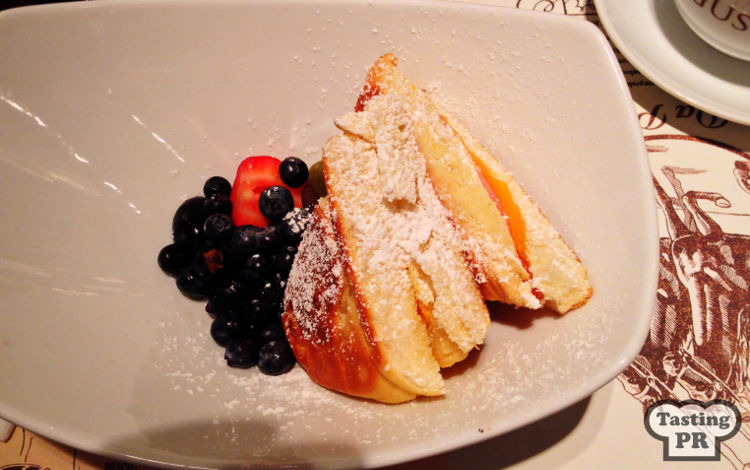 The Jamon y Queso Mallorca arrived with an interesting side of strawberries and blueberries. The Mallorca was lightly toasted so that the outside of the bread was slightly crispy with soft bread on the inside. The Mallorca's sweet bread and the saltiness of the ham just made for a great combination. With the addition of some of the chocolate sauce from the pancakes, the strawberries and blueberries were also delicious
Finally the Gustos coffee was excellent.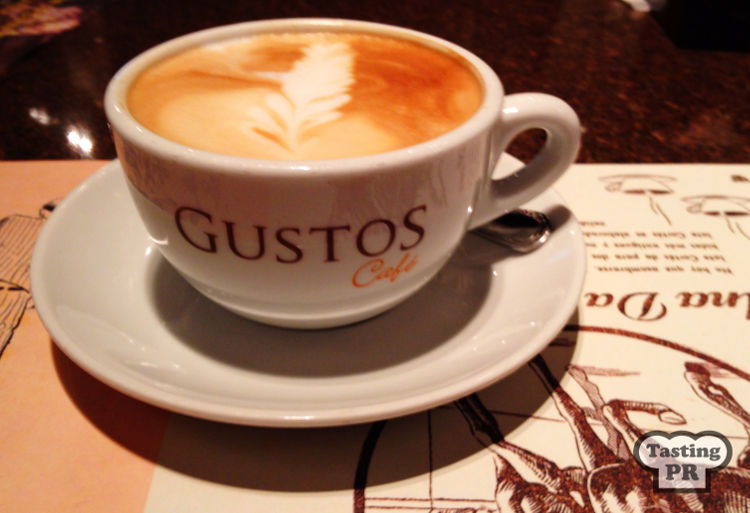 Along with their breakfast menu, Casa Cortés Chocobar also offers a brunch and sandwich menu that includes interesting items such as a Toasted Baguette with Iberico Ham and Garlic Tomato Sauce, Fried Eggs and Spanish Sausage, Grilled Cheese with Chocolate, Tripleta with Chocolate, Chococlub Sandwich and more.
Prices are on the slightly higher side but for a special occasion or if you truly are a Chocoholic, then breakfast, brunch or dessert at Casa Cortés Chocobar is a good option in Old San Juan.
Additionally they have their own private art gallery above the main restaurant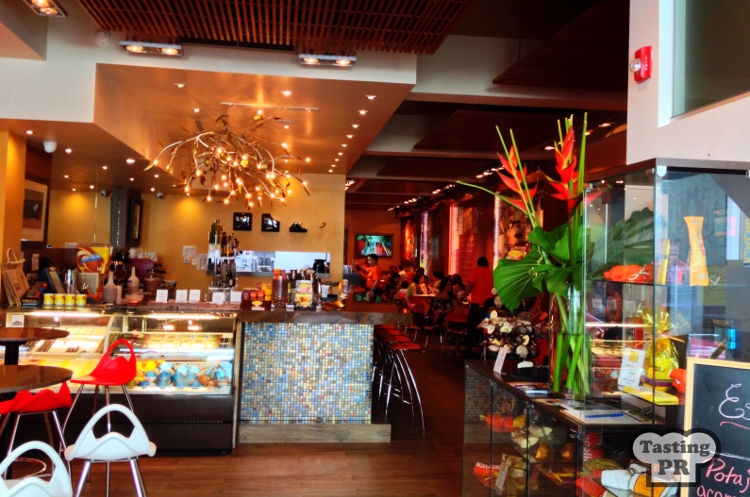 More photos here.
More reviews of Casa Cortés Chocobar at Tripadvisor, Yelp, Foursquare
Casa Cortés Chocobar
Location: 210 Calle San Francisco, Old San Juan
GPS: 18.465561, -66.115717
Parking: Street or nearby parking lots
Tel: 787-722-0499
Website: casacortespr.com
Find on Google Maps