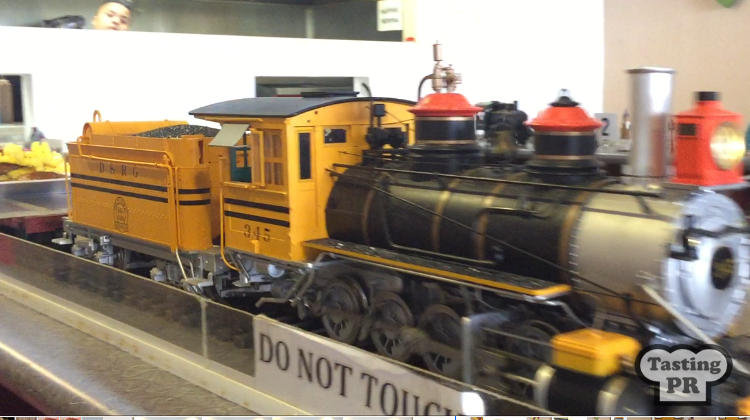 The other day as a pre school treat for my kids we headed to Old San Juan for breakfast. The initial plan was to go to Casa Cortes Chocobar, but the 45 minute wait and 2 hungry children , did not mix.
I remembered reading about a spot in Old San Juan that delivered food on a model train and realized that Carthage Express was just around the corner so without telling the kids we headed to Carthage Express.
Their facial expressions when they entered the restaurant and saw this huge model train running around the center of the room was a picture.
We grabbed some seats at the railway track side counter and watched as the train passed by with customers dishes.
Being Christmas the train layout had a cool festive theme with snow covered buildings and Christmas trees.
Carthage Express has traditional breakfast menu, lunch and dinner as well as a middle eastern themed menu.
We ordered from the breakfast menu. The kids ordered pancakes, my wife the french toast and I ordered a vegetable omelet.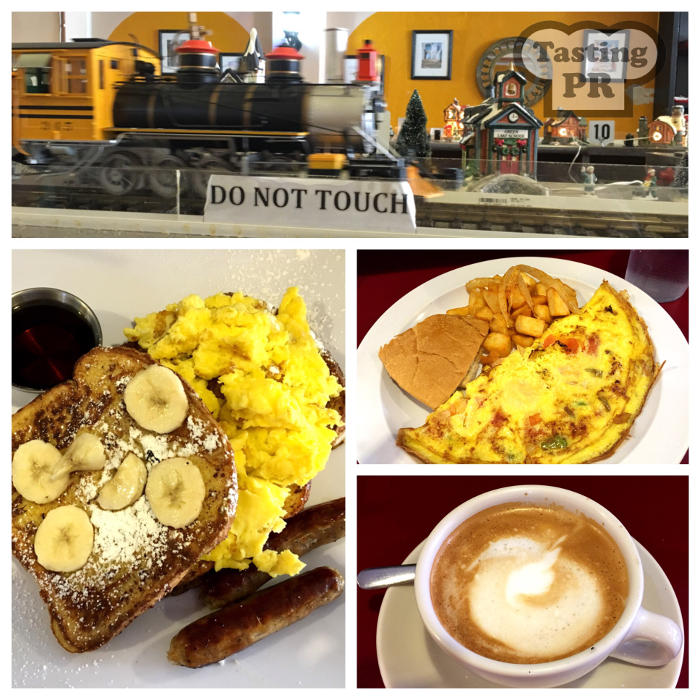 We watched as the train made its way into the kitchen and emerged with our dishes. The kids were in awe as the train slowly made its way along the track and stopped exactly where we were sitting.
Our food was really good, the kids enjoyed their pancakes, the french toast was on point and I could not fault the omelet.
We ended the meal with a really good latte.
My in-laws visited a few days later after seeing the video and agreed it was a great spot; my father-in-law especially enjoyed the Kibbe.
The service, food and prices at Carthage Express were great and the bonus, especially if you have kids is the model train delivering your food..
Check out more reviews of Carthage Express on Yelp and Tripadvisor
Carthage Express
Location: Calle San Justo 201B, Old San Juan
GPS:
Parking: Street parking and nearby multi storey parking
Hours: Mon – Thur 8:30am – 6pm, Fri – Sat 8:30am – 7pm Sun 8:30am – 6pm
More Info: Facebook
Find on Google Maps