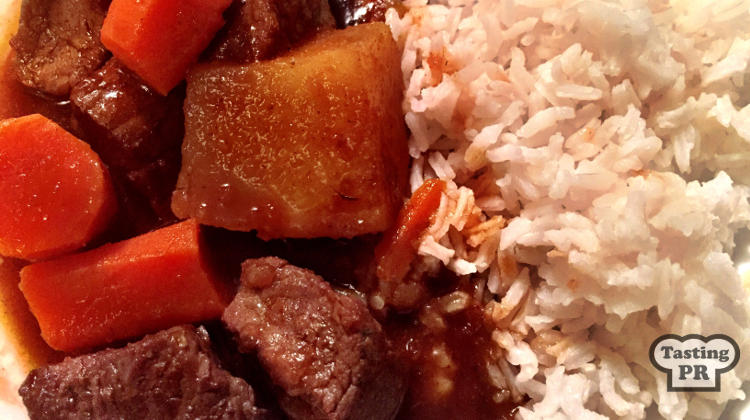 Beef stew with dumplings was a regular dish for me growing up back in England, especially during the colder months, slow cooked tender beef in a rich stew topped with fluffy dumplings; simply delicious.
Now it may not get anywhere near as cold here in Puerto Rico, but that does not mean you can not enjoy a tasty stew and this Puerto Rican Beef Stew, known locally as Carne Guisada fits the bill.
Remember this is slow cooking so give yourself a good 2.5 to 3hrs to put this altogether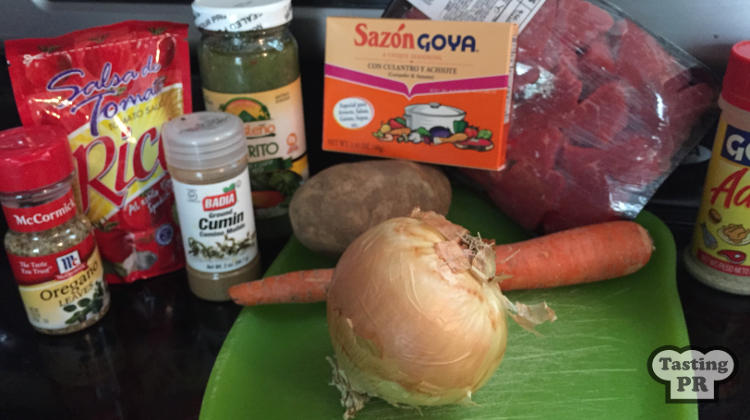 Ingredients:
2 tbs Olive Oil
Adobe Seasoning
Salt & Pepper
2lbs Beef (Chuck / Stewing Beef) cut into bite sized pieces
1 packet Sazon with Coriando & Annatto
1/2 cup Sofrito
1/3 cup Tomato Sauce>/li?
small onion sliced
1/4 tsp Dried Uregano
1/4 tsp Ground Cumin
1 Bay Leaf
1/2 cup Dry Red Wine
2 cup Beef Stock (or use a stock cube with water)
1 cups Water
3-4 Carrots peeled and cut into bite sized pieces
1lb Potato cut into bite size piecess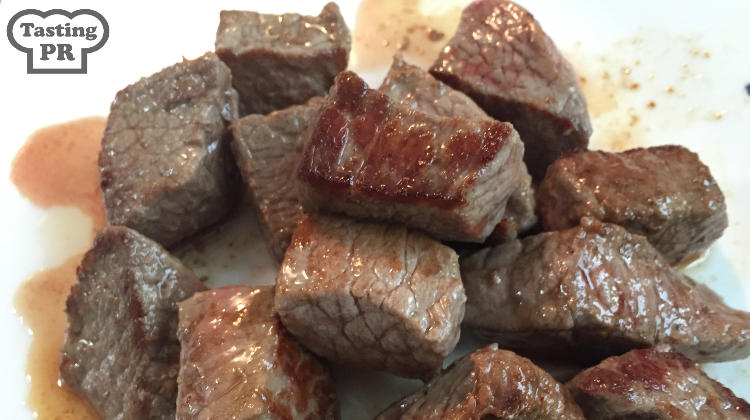 Directions:
Season the beef pieces with the adobe seasoning
In a heavy pot heat the olive oil on medium high (until a droplet of water sizzles when added to the oil)
Add the meat in batches (this prevents the temperature of the oil from dropping too much) and brown the meat on all sides. Once browned remove from the pan
Repeat until all of the meat has been browned
Reduce the heat to low and add a small amount of the wine to deglaze all of the yummy goodness stuck to the bottom of the pan
Add the onions, sofrito and sazon and cook for 1-2 minutes
Add the tomato sauce, oregano, cumin, bay leaf and red wine and cook for a further 1-2 minutes
Add the meat, beef stock and water and bring to a boil for 1-2 minutes
Reduce heat to a good simmer, cover and cook for 1 hour, stirring occasionally
Add the potatoes and carrots and continue to cook on a good simmer for 1 hour
Check the meat and vegetables for texture. The meat should fall apart easily and the veg should be fork tender. If not quite ready, cook for a further 15 mins or more
Serve in a bowl on its own with some crusty bread to mop up the stew or as is typically served here in Puerto Rico; with some white rice.
Enjoy…..