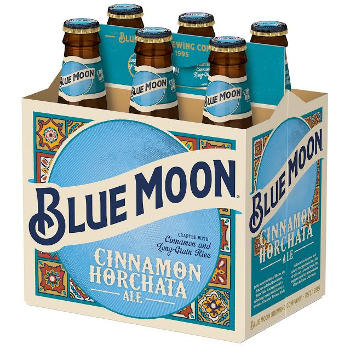 MillerCoors Blue Moon Cinnamon Horchata now available throughout the year in Puerto Rico,
Created by Keith Villa, the Blue Moon Cinnamon Horchata is handcrafted with cinnamon, dark Belgian caramel sugar and long grain rice. As for the taste, it offers a good balance between its soft notes that make it a beer exquisitely pleasing to the palate. It contains a subtle sweetness, accompanied by a smooth and creamy finish that will make consumers enjoy the experience of the new flavor inspired by the Latin roots of master brewer Keith Villa.
It is perfect to accompany with semi-soft cheeses like the fortina, vanilla and cream desserts, chocolate and crepes with apples. The combination of horchata and cinnamon make it a different and delicious beer.
According to Linette Morales, MillerCoors' marketing manager, since the introduction of the Blue Moon brand in Puerto Rico, the artisanal brewing of beer has helped consumers have many more options. "The Blue Moon Cinnamon Horchata comes in the Blue Moon Variety Pack along with other seasonal beers. Its flavor of cinnamon tasted great and became one of the favorite beers of the local consumer and a reason why the company decided to have it available throughout the year.
If your preference is the craft beers with innovative and well balanced flavors, you can not fail to taste it.
Blue Moon Cinnamon Horchata Ale is available now and is distributed in six-pack (six-pack) 12onz. In most supermarkets and specialty shops around the island.
For more information on Blue Moon and Blue Moon Brewing Company, visit www.BlueMoonBrewingCompany.com and on Facebook.
Resource: Press Release