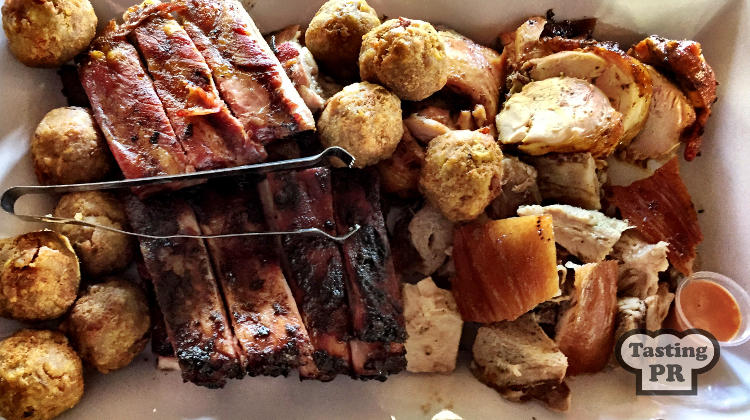 Scenic Drive – check
Cold Beers – check
Tasty BBQ – check
Asao Smokehouse in Ciales ticks all the right boxes.
A couple of weekends ago we headed over to Ciales to have our first taste of Asao Smokehouse.
All I can say is 'we will be back'.
Loved the drive, loved the location and above all LOVED the food.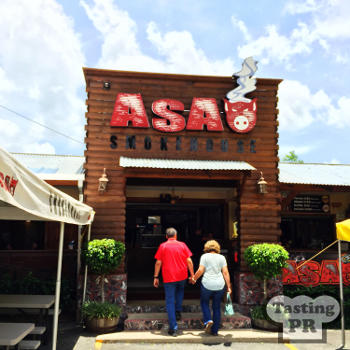 I had heard that the restaurant can get extremely busy on weekends, so we made sure we arrived just after noon. The large car park was relatively empty when we arrived (not so when we left), so so we had no problems getting a table.
As my Father-in-Law is an avid BBQ Smoker, I knew Asao was going to be under extreme scrutiny.
As we headed inside we made a quick stop at the BBQ area and learned that Asao uses hickory for their smokers and double red. Not exactly sure what double red means, so if anyone knows, let me know.
Being a large group, rather than ordering individually we decided to sample the Asao Family Special 'El Fogon de Asao' with the addition of an order of Brisket.
But first, unknown to me a plate of Morcilla and local sausage arrived. Morcilla is Puerto Rico's version of blood sausage and today's sample was just too good. It was moist, packed with flavor with a slight hint of spice. It was a perfect start to our BBQ adventure.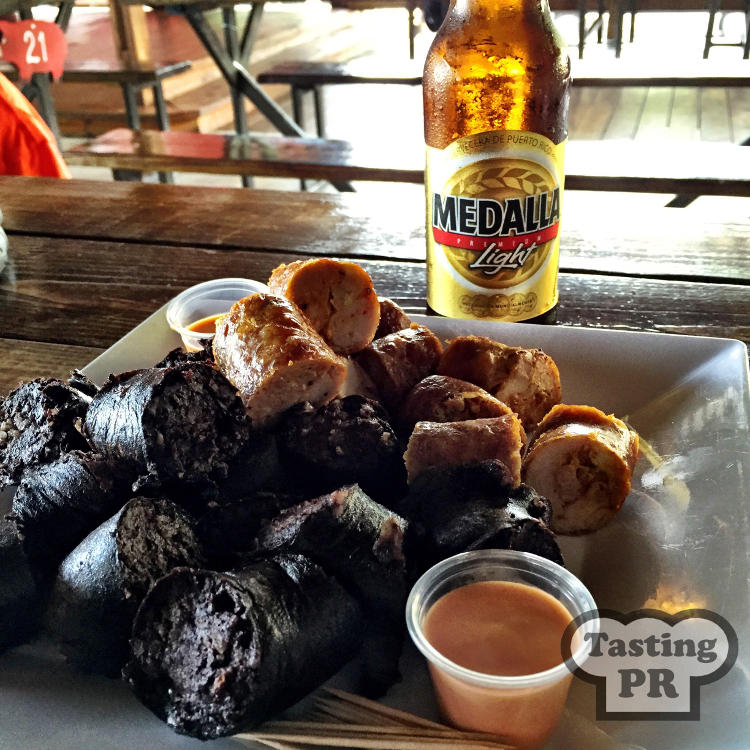 The 'El Fogon de Asao' arrived and everyone's eyes lit up at the at the sight of mouth water Costillas (2 types) Soba and Esnua (Ribs rubbed & naked), Chicken, Rice with Gandules, Mofongo Balls and Lechon, Yes the El Fogon came with Lechon; so that was a win, win.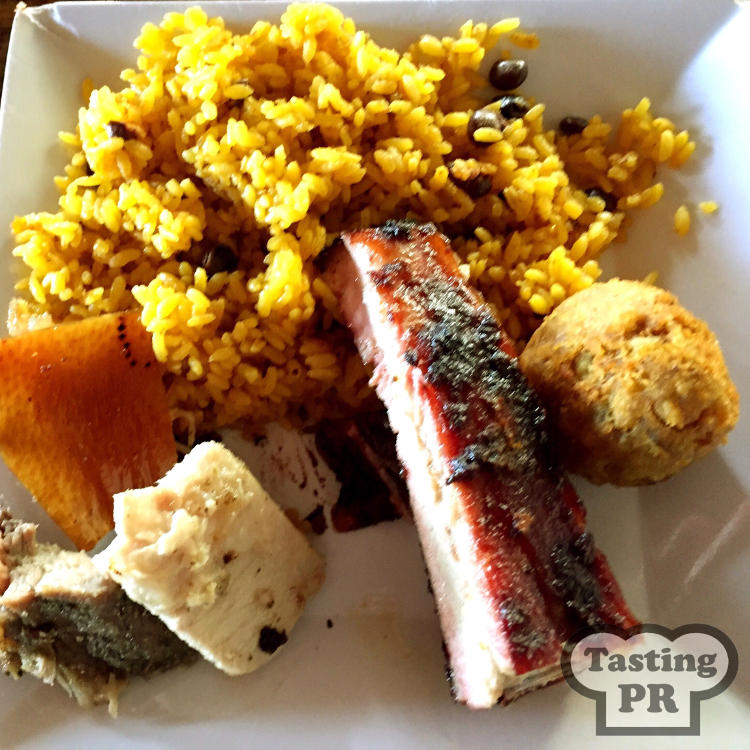 The platter was huge and was way more than we could eat, but it allowed everyone to try a piece of everything, with plenty leftover to take home.
Everything from the special was excellent, including the crackling (crispy skin) of the lechon.
Now remember we also ordered brisket and this turned out to be the star of the meal. I loved the morcilla, I loved the lechon, but the brisket was just pure melt in the mouth beef goodness; simply heaven on a plate.
The brisket had an impressive smoke ring with a mild smokey flavor and was so tender it virtually melted in your mouth. Everyone in our group including my son agreed that it was the winning dish.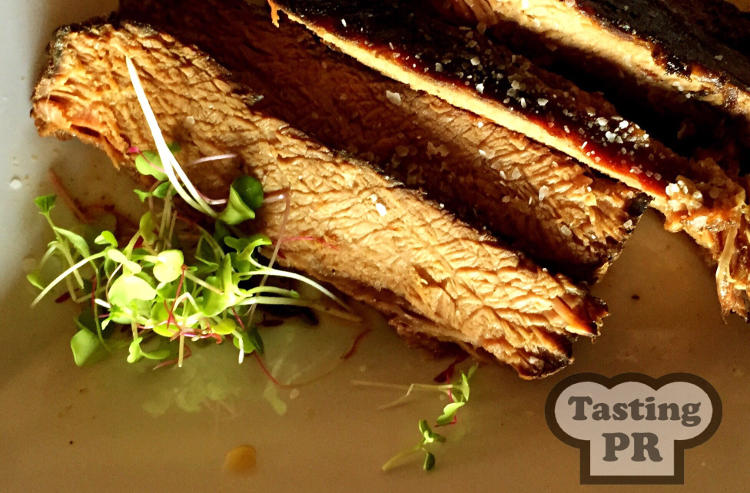 Unsurprisingly, dessert was not on my agenda, but the children and my sister had other ideas. So orders were placed for Tres Leches with Amaretto and a slice of Nutella Cake.
The Tres Leches cake was a hit with my sister, moist cae that was not overpowered by the amaretto.
The Nutella cake was enormous and was demolished rather quickly by my son with the help of one or two others in our party.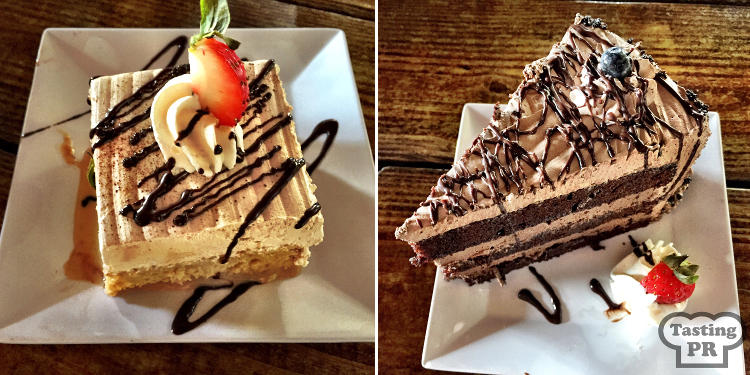 Asao Smokehouse has a great atmosphere, serves awesome BBQ and makes for a great family lunch spot,. It also has my Father-in-Laws BBQ seal of approval
It takes around 1.5 hours from San Juan and is a relatively easy drive. There are no really tricky rounds to navigate.
The restaurant is open Thursday – Sunday and typically gets very busy on weekends, so try to get there around noon to avoid having to wait too long for a table.
Nearby attractions include: The El Paseo Lineal Juan Antonio Corretjer; a nice recreation spot with some impressive views (you will pass it on your right as you drive towards Ciales) and the Museum of Coffee in Ciales.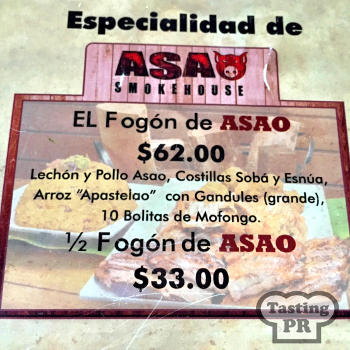 More photos of Asao Smokehouse in Ciales
More Reviews of Asao Smokehouse @ Yelp,
Tripadvisor and Foursquare
Asao Smokehouse
Location: Carr. 149 km. 18.5 Barrio Pesas Al Lado de Pozas, Ciales
GPS: 18.302540, -66.479805
Hours: Thursday (11am-6pm), Friday – Sunday (11am-8pm)
Tel: 787-871-4992
Parking: Yes
More Info: Facebook
Find on Google Maps