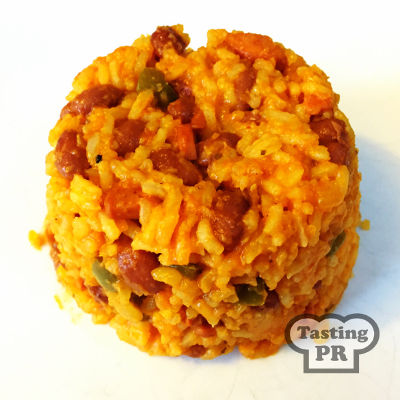 There are several staple rice dishes here in Puerto Rico and one that is popular in our house is Arroz Mamposteao; which is basically a combination of bean stew with cooked rice. It's simply delicious and this version is so easy to make.
Ingredients:
3 cups of Cooked White Rice (use your preferred method)
7oz Bacon diced(I have also used Pancetta)
½ Onion
½ Green Pepper
1 sachet of Sazon Goya
1tsp Adobe Seasoning
½ tsp Curmin Powder
1tsp Oregano
½ tsp Black Pepper
1 small can Tomato Sauce
2-3 tbsp Goya Sofrito Tomato Cooking Base
1 can Pink Beans
Method
Cook the white rice using your preferred method and set aside
Cook the bacon or pancetta on medium heat for 6-8 minutes
Add the diced onion and pepper and cook for a further 5 minutes
Combine the Sazon, Tomato Sauce, Sazon, Adobo, Curmin, orgegano, pepper, Sofrito Base and Beans. Bring to a boil and cook for about 10 minutes
Finally add the cooked rice and mix well.
Additionally, you could also add ripe plantains to the mix, to add a touch of sweetness
Arroz Mamposteao makes for a great side dish or just fill a bowl and enjoy for a snack or late supper.