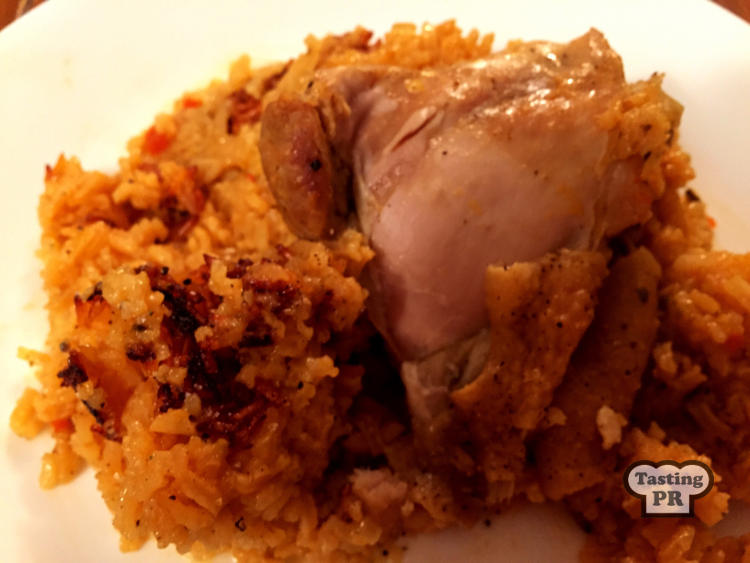 Arroz con Pollo (Rice & Chicken) is a staple dish here in Puerto Rico and one that you will find served in most traditional Puerto Rican Restaurants.
This simple and delicious Arroz con Pollo recipe is prepared in a single pot and incorporates many of the pantry basics that you will find in a Puerto Rican kitchen; Sofrito, Recaito, Stuffed Olives, Sazón with Coriander and Annatto and a few other ingredients.
For the chicken, you can use whatever you have available, but bone in chicken works best as it has more flavor and is less likely to dry out during cooking. Typically I go with chicken thighs.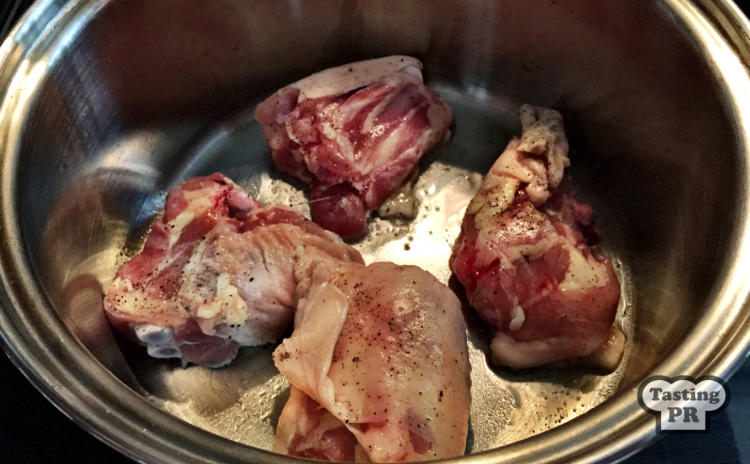 What do you need:
A large aluminum or cast iron cooking pot or Caldero
2lbs Chicken Pieces (Thighs or Legs) – remove from the refrigerator a few minutes ahead of time and pat dry (this will help with the searing and browning of the chicken)
2 Cups of Medium Grain Rice
4 Cups water
1 Chicken Stock Cube (or use Chicken Stock in place of the water)
Canola to coat the bottom of the pot
1 small onion finely chopped
1 ½ Tbs Minced Garlic (or 2-3 cloves)
½ Cup Sofrito
¼ Reciato (optional)
2oz Tomato Sauce
1 Pkt Sazón with Coriander and Annatto
12 Stuffed Olives (sliced)
½ Tbs Capers

Directions:
Heat the oil on medium high
Add the chicken pieces skin side down in a single layer and cook for around 5 minutes until the chicken starts to brown. Turn the pieces over and brown the other side. If the chicken sticks when you attempt to turn it over, give it a minute or so more
Remove the browned chicken pieces and repeat the browning for any remaining pieces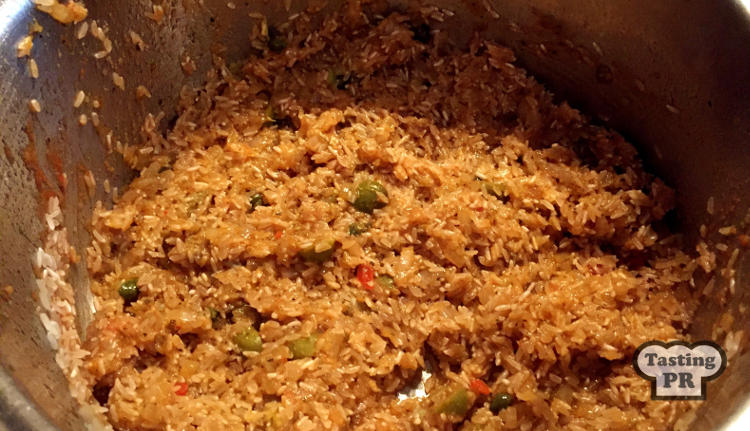 Add the onions and cook for a few minutes until they have softened
Add the Garlic, Sofrito, Racaito, Tomato Sauce, Sazon Season and cook for a minute so
Add the Rice and stir to coat all of the grains
Add the water, Olives and capers and bring to a boil
Add the chicken (skin side up), reduce heat to a simmer and cover the pot
Continue to cook until for around 25 minutes until the rice and chicken are cooked
Serve straight from the pot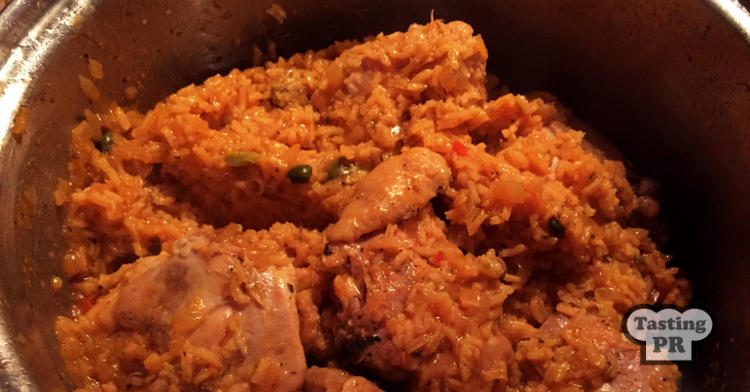 If you enjoyed this recipe, check out more here