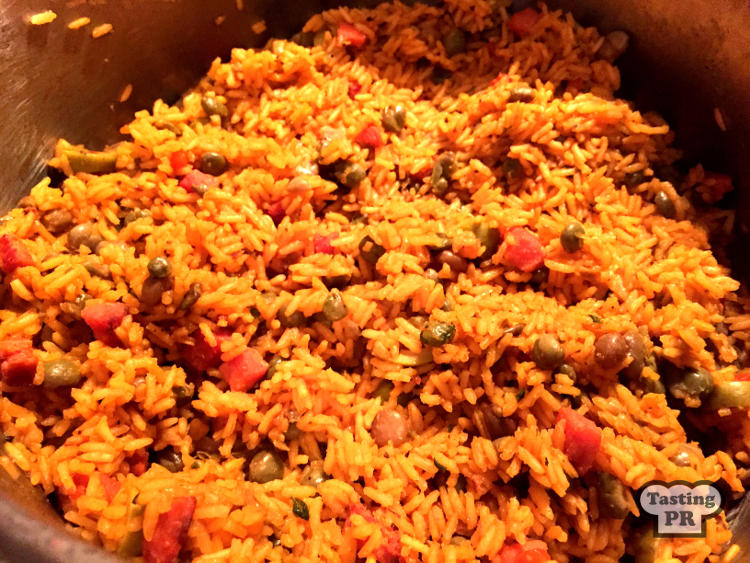 There are several dishes here in Puerto Rico that tend to appear more at Christmas and Arroz con Gandules (Rice with Pigeon Peas) is one of them.
Popular at Christmas but can equally be served anytime of year, Arroz con Gandules is a tasty accompaniment to chicken, pork, beef and more.
With everything cooked in one pot, this is a really easy dish to prepare and impress your family and friends
Ingredients
1 tbsp Oil
¼ lb Jamon de Cocina (country ham), cubed
½ cup Onion, chopped
2 packets Sazón with Coriander and Annatto
1 tbsp Minced Garlic (2-3 cloves)
2 tsp finely chopped fresh cilantro
1 tsp Oregano
1½ cups Medium Grain Rice
Water (Check the rice package for recommended ratio of rice to water)
1 can (15 oz) Gandules / Green Pigeon Peas
4 oz Tomato Sauce
12 Manzanillas Olives Stuffed with Minced Pimientos, sliced
½ cup sofrito
¼ cup Recaito (Cilantro Cooking Base)
Method
In a medium pan heat the oil to medium / high
Add the ham and cook until it starts to brown, about 5 mins
Lower the heat to medium and add the onions. Cook for 5-10mins until the onions soften and become translucent
Add the sazón, garlic, cilantro , oregano, sofrito and recaito and cook for another minute
Add the rice and stir so that all of the grains get coated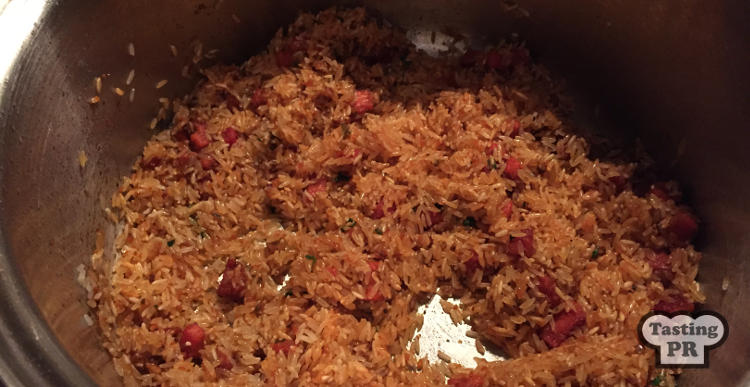 Add the water, peas (gandules), tomato sauce and the olives and stir so that everything is incorporated
Bring to a boil, lower the heat and cook uncovered for about 10 minutes
Stir the rice again and cover
Lower heat to low and cook for another 15-20 minutes until the rice is tender
Remove from the heat and give it another quick stir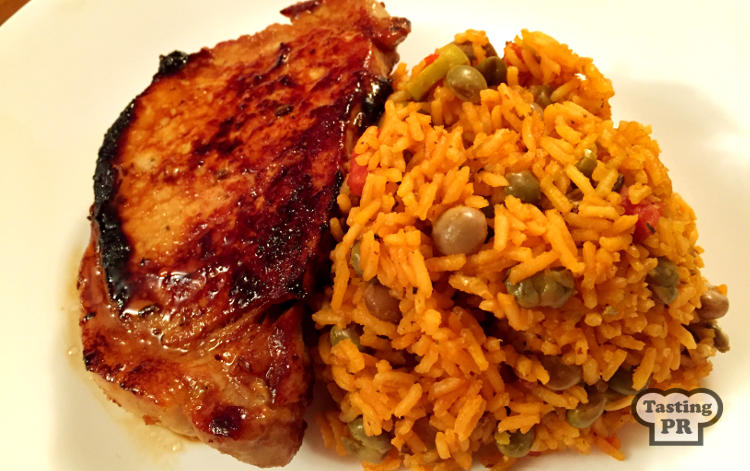 Serve and enjoy….
If you enjoyed this recipe, check out more here